When speaking of funding for startups, most founders first consider VC or Angel Investor funding. Somehow, it is perceived in the startup world that this is the way to go. However, it is not necessarily the only option.
To boost innovation and SME sector growth, the EU Commission has launched the SME Instrument of the Horizon 2020 program – the largest non-dilutive fund in the world.
EUR 3 billion are available to be awarded to 7,500 startups by 2020!
Why non-dilutive?
It is a grant, not an equity funding. The startups are not selling equity or issuing new shares. However, the stratup companies and SMEs are required to fund 30% of the budget of the project.
There are two phases:
Phase 1
EUR 50 000 are awarded to innovative businesses for concept and feasibility study.
Phase 1 at a Glance
A lump sum of € 50000 in EU funding and 3 days of coaching
Feasibility study
Initial 10-page business proposal to be submitted
70% funding rate
Around 6 months in duration
Phase 2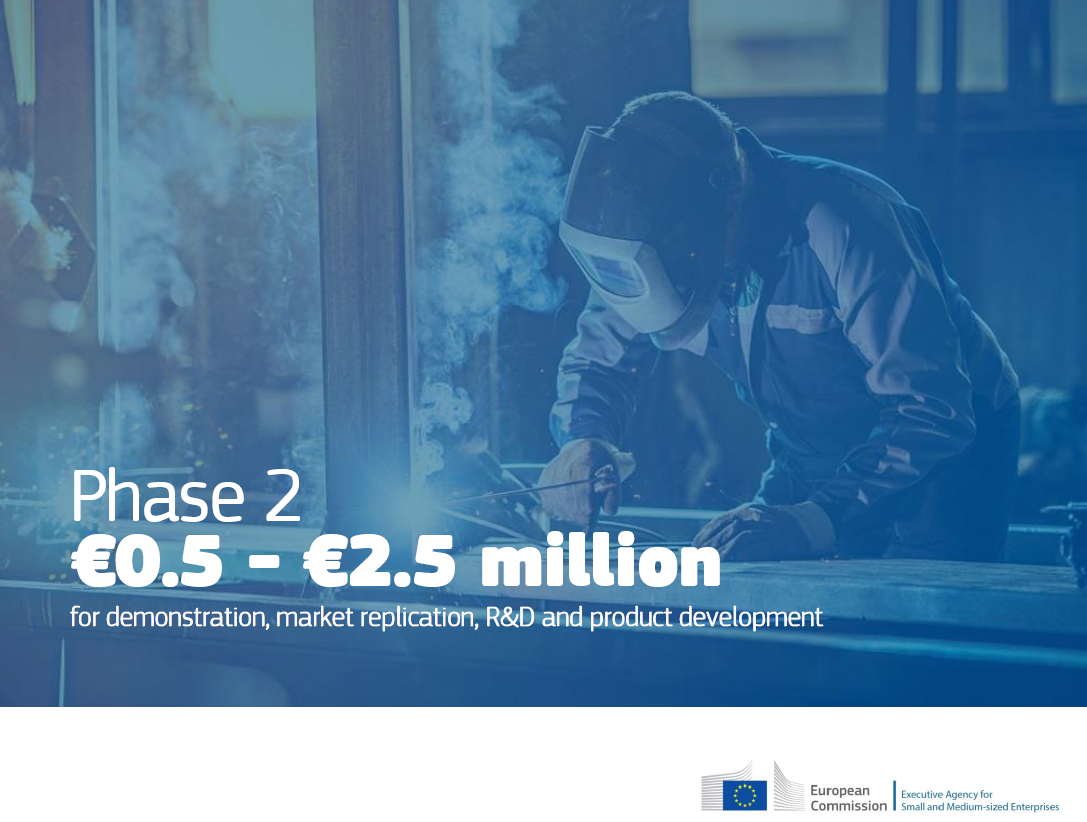 Image credit: EU Commission
Phase 2 at a glance
Develop project through innovation strategy
1-2 years in duration
Between €0.5 million and €2.5 million in EU funding (exceptions apply) and 12 days of coaching
Detailed 30-page business plan
70% funding rate
TRL 6 or above recommended
Although there are guidelines and instructions available, most startups don't pass through the selection process. It is very competitive and based on stringent criteria.
In the past, there were pre-defined topics and the entrepreneurs were required to select a topic prior to applying – e.g. '' SMEInst-01-2016-2017: "Open Disruptive Innovation Scheme". As a result, certain topics were receiving a much higher number of applications making them more competitive than the rest. As of 2018, the removal of pre-defined topics allows entrepreneurs from all sectors of the economy to apply with their disruptive innovations.
The submission forms have been simplified and adapted to the business language too. Most companies were facing challenges with the pre-defined structure of the forms used in 2016-2017. The new submission forms are much closer to those used to apply for a business loan or VC funding and familiar to the entrepreneurs.
To better consider and evaluate each proposal, the pool of expert evaluators has been increased significantly. Each proposal is allocated to the experienced expert evaluators based on the keywords disclosed by both the experts and applicants. Powerful matching algorithms are used to allocate the projects and ensure a stringent and high-quality evaluation process. Business valuation or angel investor background is among the expert evaluator's selection criteria.
Prior to 2018, the final selection of innovative startups was relying on a remote evaluation process only. As of 2018, a face-to-face interview process with selected Phase 2 applicants was adopted as the very last step in the evaluation process. This ensures that only the most innovative companies with proven growth potential have been selected.
Although all of the above is clear, the success rate is not high.
SME Instrument Stats at a Glance
Launched in 2014
Funded 3,200 innovative startups
Coming from 37 countries
8% - the success rate of Phase 1 (EUR 50,000)
4.8% - the success rate of Phase 2 (EUR 0.5 mio – EUR 2.5 mio)
With so low success rates, is the SME Instrument worth applying?
Definitely. Even if your startup doesn't make it to the final cut, a Seal of Excellence awarded by the EU Commission to those startups that have passed the stringent evaluation criteria has a ''label effect''. It provides an extra level of confidence to the banks and investors and may serve as an ''independent third party business valuation'' when applying for VC funding or funding through the local instruments like Innovate UK.
How to Determine if Your Startup is Eligible?
The SME instrument is open to novel ideas, that are radically different from the existing solutions, are considered as high risk – high gain, have the potential to create jobs and scale up internationally. The good news is that startups from all sectors of the economy can apply and leverage on novel combinations of existing business models and technologies.
Most startup founders believe that their business model is novel and disruptive and has what it takes to pass through the final cut which to some extent explains the low success rates.
Writing a winning proposal takes time and effort, and in some cases, the cost is not negligible. By answering the following questions, the startup founders can develop a very high-level understanding of what the requirements are and if their idea, business model and technology are sufficient.
Is the very same or similar technology used by your competitors?
What is your current stage of development?
Do you have a clear commercialization plan?
If you lack expertise, how do you plan to acquire it? Do you have access to networks, supporters, advisors, etc.?
Does the management team have experience managing a fast-growing company? If not, how will you address it?
Do your idea and business model have the potential to scale internationally? What is needed for a successful internationalization?
What is your market entry strategy?
How likely are your competitors to copy your innovation? What is your intellectual property policy?
Will you be able to demonstrate sufficient funds to cover your part of the project? Remember that the SME Instrument covers 70%, the rest needs to be provided by the startup company.
Do you need to pay for consultants?
Not necessarily. There are a number of organizations in each EU member country providing high-level advice, in some cases at no cost. If your finance team has experience with writing business plans and VC pitch decks, you may go with high-level guidance and advice. However, if your startup is at an early stage and you are relying on an outsourced accounting firm, you may consider using the services of consultants as this will significantly increase the likelihood of success.
Do you need help with your proposal? Transformify Team is here for you. Message sales@transformify.org.
Last but not least, what are the deadlines for applying?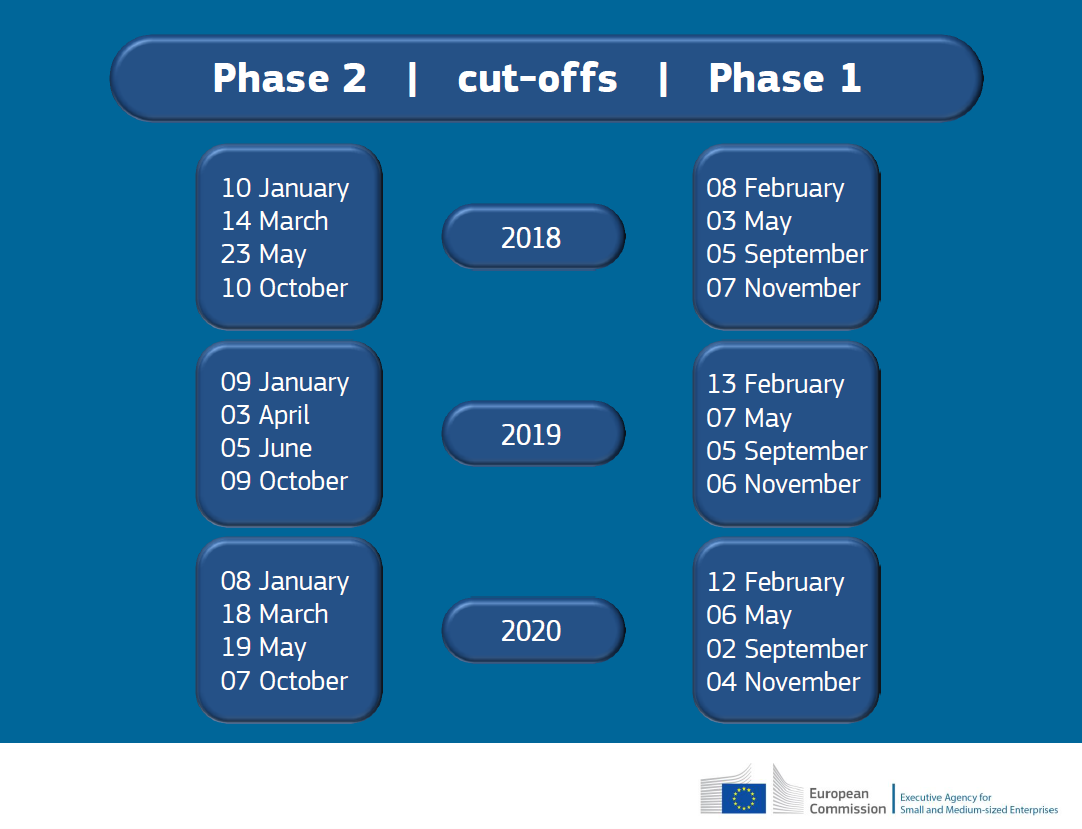 Image credit: EU Commission
Lilia Stoyanov is the CEO and Angel Investor of Transformify. A fintech and digital transformation expert, she is also a professor at Zigurat Business School and Expert Evaluator, SME Instrument, Horizon 2020 at the European Commission.
Transformify is a member of the Digital Skills and Jobs Coalition of the EU Commission.
Opinions expressed by Transformify contributors are their own.