I was among the few people to read ''The Upskilling Imperative: 5 Ways to Make Learning Core to the Way We Work'' prior to being published. Now, I have the pleasure to discuss it with its author – Shelley Osborne, VP of Learning at Udemy.
Shelley, I would love to know more about your perspective on transferable skills and life-long learning. Why is a college degree no longer enough?
While I started my career as a schoolteacher in Canada for almost a decade, I realized during that time that my passion was lifelong learning and corporate L&D (learning & development). The future of education is a fascinating topic as traditionally, there was a perception of a ''finishing point'' – whether that meant a high school education, university or a postgraduate degree. That point of view was always alien to me, as I use learning as my own path forward even now as an adult.
I have spent quite a long time in the corporate L&D space and landed my dream job at Udemy, a pretty unique company when it comes to learning and development and transferable skills. We think about the democratization of learning and using AI and machine learning to help people find that next skill. Udemy's mission is to improve people's lives through online learning and we do that by providing a platform for anyone around the world who wants to teach, but also for anyone across the globe who wants to learn. We have over 57,000 instructors, 150,000 courses and 300 million course enrollments. Millions of students come to Udemy every day to learn, enhance their skills and set themselves up for that next role.
For me, joining this company as a VP of Learning and leading learning internally – while also getting to learn from all the people who use our product and our platform – has been incredibly exciting.
Udemy has a product for businesses as well. Is continuous learning already an integral part of the corporate culture?
Our Udemy for Business collection of courses helps organizations upskill and re-skill their workforce and prepare for whatever comes next. Especially now, when many people have unfortunately been furloughed or laid off, it is a call to action for us to provide learning opportunities that can help individuals upskill and rebuild their careers. Being of service to society in difficult times is rewarding and we're grateful to have the ability to support employees and learners around the world.
Traditional learning is shifting to online learning and that's a trend that will continue post Covid-19. There are numerous reasons for that – it is much more accessible; it takes less time and busy professionals can study at their own pace. On top of being the CEO of Transformify, I am a professor at Zigurat Business School, Barcelona and witness daily how much more flexible online learning is. However, finding relevant online learning is not a straightforward exercise. How does Udemy address this challenge?
You said it yourself – it's critical to enable others to "learn at their own pace." In the past, many did not recognise online learning as a major component of the future of learning. For me, online learning has become a platform to scale and ensure that people can learn and develop their skills in any area of interest to them. Due to Covid-19, there has been a rapid transition toward learning online that couldn't have occurred as quickly in any other environment. It has caused people to think differently about how we access education and how we can reach more learners online.
To your other point, it's really helping provide direction and making sure that people have the tools to navigate their careers. It's easy to get lost in a sea of options, especially when so many struggle to let go of traditional learning methods and shift toward the learning needs of the future. At Udemy, we are really proud of nurturing a growth mindset and helping people find the right learning method for them. In the past you would often hear, "Oh, if you take an Excel course, the next step must be an Advanced Excel course." That's not actually what learners are trying to do. More often, they are trying to collect very specific skills for very specific needs. Learners don't necessarily want to go super deep into one topic, they want a holistic approach that helps them to, for example, build a business or manage a team. They want to learn a little about Excel to make a pivot table and then they may want to learn about graphic design to make a presentation based on that pivot table – from there, their skills begin to scaffold.
At Udemy, we manage to connect all these learning preferences and understand the user data and recommend content and courses more effectively. We also do it in a way that is a little bit more authentic and sincere rather than simply telling users, "You are interested in Excel, let's give you more Excel." That's the beauty of scale when you have so much data. We understand what our learners are doing and we can leverage that information to help learners figure out where to go next.
This knowledge is what actually boosts continuous learning. If people understand why they need to learn something else, they are motivated. In the past, the mindset was, "I need a diploma, so I need to graduate. That's why I will take a course. It's not that I am interested in it or I will ever apply it in practice, but this course is in the curriculum." That piece of paper is becoming less important nowadays and continuous learning will be key to helping individuals be successful in real life.
What prompted you to write "The Upskilling Imperative"?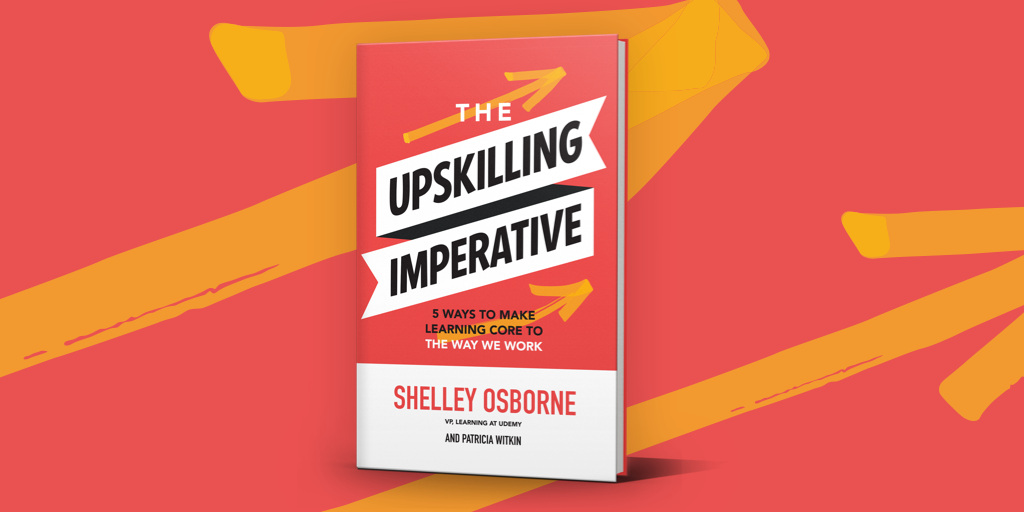 Learning to me is the future of work. With today's rate of change, there is no longer a way for us to exist without infusing growth and learning into our daily lives. We have to break down those traditional thoughts of just achieving a diploma or getting through a company training, "because someone told me that I had to." Instead, it's a mindset that persists and prevails in some cases and needs to shift to a mindset of lifelong learning.
When I was thinking about writing, "The Upskilling Imperative," I knew I wanted to convey that upskilling is imperative and provide a roadmap on how we can create this culture of learning where continuous learning is the norm. The need to learn something new will always be there. It's impossible to know what will be critical to learn in five, ten years from now so we must develop "learning agility" – the idea that we are open to learning new skills, whatever those skills might be.
As a learning leader, I spend a significant portion of my day thinking about how I create the signal value that learning is accepted and we are open to and seeking to learn regularly. Learning new skills must be part of the job, not stepping outside of the job. Learning needs to be easily accessible so there's no need for employees to drop off what they are doing to attend a four-hour workshop. We want to grant that access at the moment of need. That's when technology like Udemy comes into play and fits into this democratized culture perspective.
I was reading your book and there is one very interesting part about developing a corporate learning mindset. Learning is perceived as something mandatory in many organizations and people go through it as it is part of their annual assessment like, "It's on my checklist and I need it done.'' Oftentimes, learning is used as a ''perk'' and only the top performers are granted access to an MBA or postgraduate course. Finally, there are lots of organizations that don't have it structured, either. Would you share your thoughts on which approach may work best?
To be honest, having a structured and broad approach takes more time to think through, but when you set it up, it is so much more powerful and you are setting your organization up for sustained success. If you only provide learning opportunities to a small group of employees, you're not really setting yourself up for the future. You have a very small part of your organization that is being upskilled and developed.
In today's environment, we need to think more deeply. I oppose the idea that we have to think just about developing a small percentage of the organization or that we must make learning mandatory. It is all about creating a space where learning is democratized and there is open access to it. Then, in order to increase engagement and drive adoption, it's important to think about creating the right perspective around learning. In The Upskilling Imperative, I reference that idea as "thinking like a marketer" to really capture mindshare. That comes down to, "How do we talk about e-learning? How do we talk about a growth mindset? How do we even advertise and share learning opportunities and experiences to our employees?" Upskilling is an opportunity and that's how it should be seen, not as a mandatory task that is to be completed.
Quite often, I act as a management consultant, and what I see when involved in HR transformation, is that many large companies have huge databases with all the learning materials purchased and created internally over the years. The information may even be well-organized and searchable but used rarely. It's creating that mentality that knowledge is accessible that is needed to boost continuous learning. How can organizations nurture this mindset?
This mindset is top-down and it must come from the executive level. I believe the ''upskilling imperative'' is the signal value that execs need to send. We need to lead by example, we need to talk about the learning we personally engage with, we need to talk about our own growth mindset, we need to talk about failure differently. Those pieces are crucial to make sure that the continuous learning mindset is cascaded throughout the organization.
About the Author
Lilia Stoyanov is an Angel Investor and CEO at Transformify. A digital transformation and fintech expert, she is also a professor at Zigurat Business School, expert evaluator Horizon 2020 at the EU Commission and a guest author at Entrepreneur.com.