Ranking among the fastest developing countries in the world, India has seen a shift from traditional family-owned businesses to technology startups and global outsourcing centers. People are looking for more flexibility and India is second only to the US based on the number of freelancing professionals. At least 15 million people work as freelancers or on a contract basis and the number is constantly growing.
While classifying a worker as a freelancer or a consultant has many benefits, it may be an administrative burden to the organisation. An average outsourcing center in India has 500+ employees and many work on a contract basis. Monitoring the duration of each contract, the number of payments, updating bank account details, reconciling invoices, etc. results in an administrative burden and low efficiency.
An administrative burden for the business and a big opportunity for Transformify
Ranking in Index 100 and Top 10 Fintech Innovations in the UK, Transformify never overlooked the Indian market. Leveraging on advanced technology, the company developed a powerful Recruitment CRM allowing the business to hire employees and freelancers at ease and transfer secure payments worldwide. Based out of Chandigarh, India, Transformify team is working hard to deliver advanced Recruitment CRM and corporate social responsibility (CSR) solutions to the Indian market.
Moreover, Transformify was developed to fulfill a mission. Providing opportunities to disadvantaged people, empowering women, helping startups to be successful, and boosting financial inclusion have always been top priorities for the company. Embracing the local culture and joining forces with local partners tremendously increases the impact on the society at large.
The access to education and financial inclusion are a proven strategy helping thousands of women worldwide to escape poverty. Knowing this fact, Vibha and Transformify have joined forces to run a mentoring program guiding women out of poverty, helping them to advance their careers or start businesses of their own. The program is inclusive and welcomes both women and men who may share their knowledge and network as mentors or receive guidance as mentees.
India is a technology hub and thousands of startups are founded each year. In unison with the global startup failure rate, more than 90% of these startups cease to exist in 2-3 years. A variety of reasons lead to the failure – lack of funding, not having the right team, lack of knowledge, having no access to network to secure clients, etc. Transformify Market Entry Pack for Startups was developed to address the needs of startups and decrease the failure rate. Jointly with LeanTrack, Startup Leadership, Smartworks, WeWork, Roam, etc., Transformify provides a unique opportunity for the startups to enter new markets on a very tight budget, hire talent anywhere in the world, transfer secure payments and acquire new clients.
Most startups are underfunded and expanding to a new city or a new country is a challenge. With the Market Entry Pack for Startups, the startups can hire freelancers, consolidate a team in the co-working space provided by the partners of Transformify, reach out to local partners and potential clients via the Service Store, benefit from the premium offers to save costs and transfer secure payments. Once the market is validated, it becomes much easy to pitch to investors and secure funding.
What happens if the market is not validated?
It is unfortunate, but it may happen – after months of hard work it appears that this is not the right market or it takes much more effort and resources than the startup could afford. However, the investment needed to validate the market using the Market Entry Pack for Startups is minimal – hiring freelancers and consultants instead of employees is cheaper and there is no severance package. Usually, the agreements with the consultants and freelancers can be terminated on a very short 2-week notice. The same is applicable to the office premises – most coworking space providers accept month-on-month payments and there is no contract termination fee that needs to be paid.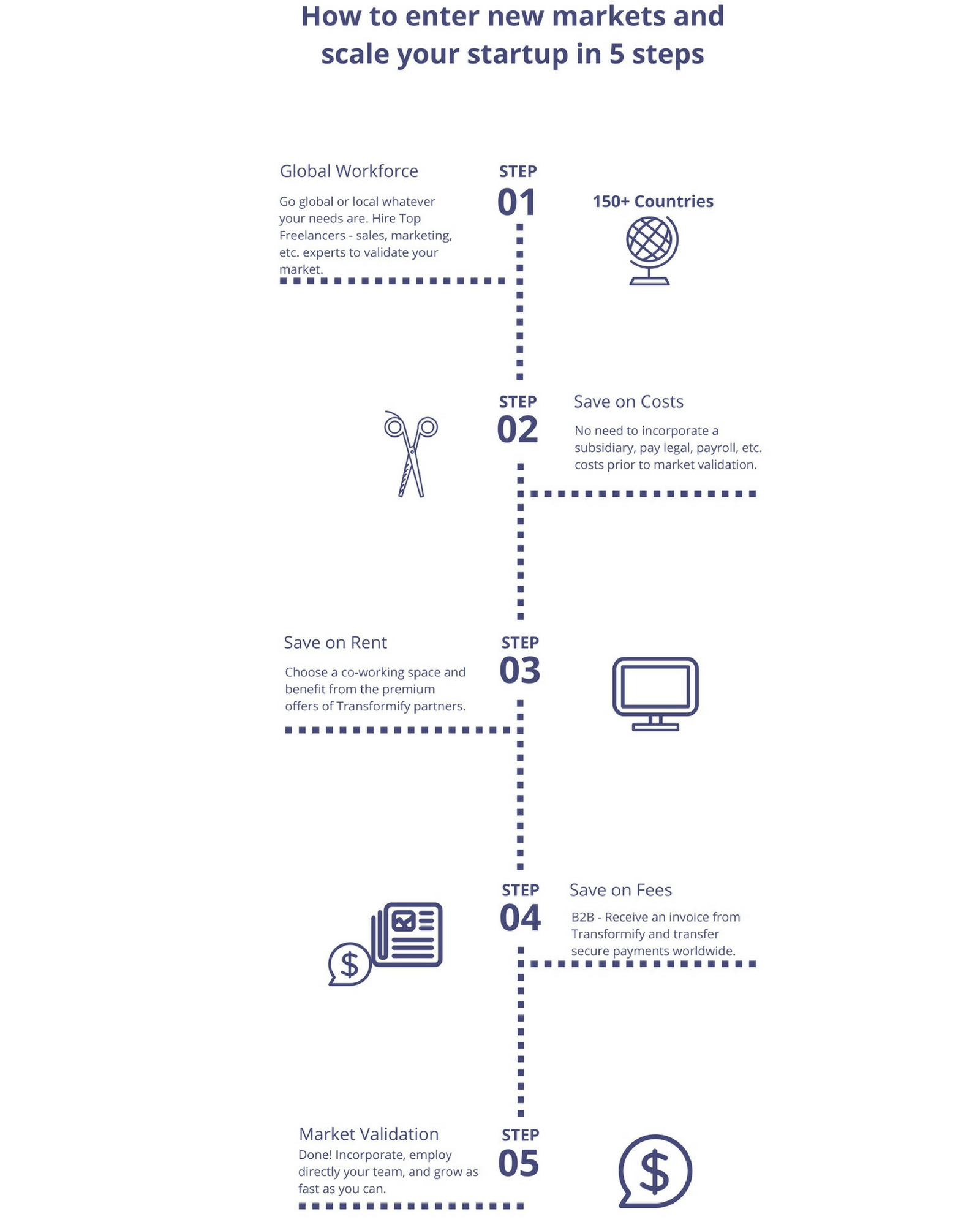 Business on Focus: Automating HR and Payroll Payments
Most businesses use a variety of HR and payroll solutions ranging from job boards to AST (Applicant Tracking System), to onboarding software, to contract management software, to payroll software and… a lot more. Collecting information about the bank accounts of the employees, consultants and freelancers, keeping this information up to date and its secure storage is an administrative burden and comes at a cost.
What about double payments to freelancers and consultants?
A survey conducted by Transformify reaveals that 70% of the businesses and temp agencies have transferred a double payment to employees, consultants and freelancers. The monitoring process is complicated if there are many temporary workers, the length of the assignments varies, and there is a disconnect between the manager approving payment and the payments and accounting teams.
To address all these challenges, Transformify CRM comes loaded with:
Helping businesses to source employees, frelancers and consultants. Powerful matching algorithms create lists of matching candidates in seconds based on candidate's skills, location and salary expectations.
A GDPR compliant ATS allowing recruiters to track applicants, create shortlists at ease, schedule interviews and much more. The ATS is linked to the Job Marketplace to enable sourcing and tracking applicants via the same dashboard.
For those interested in hiring freelancers and consultants, the B2B Freelance Marketplace provides an end to end functionality to source, interview and transfer payment to freelancers and consultants. The in-built billing and self-billing make the issuing and reconciling of invoices a walk in the park.
Depending on the needs the Staffing/Temp Agencies can source talent and manage the relationship with and the payments to temp workers, freelancers and employees. A fully GDPR compliant solution, the Recruitment Software for Staffing/Temp Agencies saves 60% on costs.
The millennials and young people, in general, are very unlikely to relate to a brand that is not socially responsible and has no positive impact on the society. Even more, in India, there is a legal requirement for the large organisation to engage with corporate social responsibility (CSR) activities. However, it is easier said than done. Reaching out to the people in need is quite often a challenge which can be overcome by using Transformify CSR Recruitment Platform. All job seekers self -identify, the jobs can be indexed to attract the attention of people from specific groups, the business receives an overall support in running their CSR programs and initiatives.
A challenging market, a different culture and an exciting opportunity for Transformify team to establish our presence in India and to transform people's lives for good.
Posting to 50+ Job Boards at Once
Transformify Recruitment Platform has integrations with 50+ job boards and job aggregators and each job listing posted to Transformify is automatically indexed by all of them. These include Indeed, Jobvite, Jobisite, Adzuna, Jobrapido and many more.