We know how important it is for the young entrepreneurs and startup founders to network, have access to talent, and learn from those who have already succeeded. Thus, Transformify & LeanTrack have joined forces with global business services providers to give access to essential services such as workspace, recruitment, billing, and payment transfers for free or at a discount.
WeWork Offer
10% off your new office with WeWork.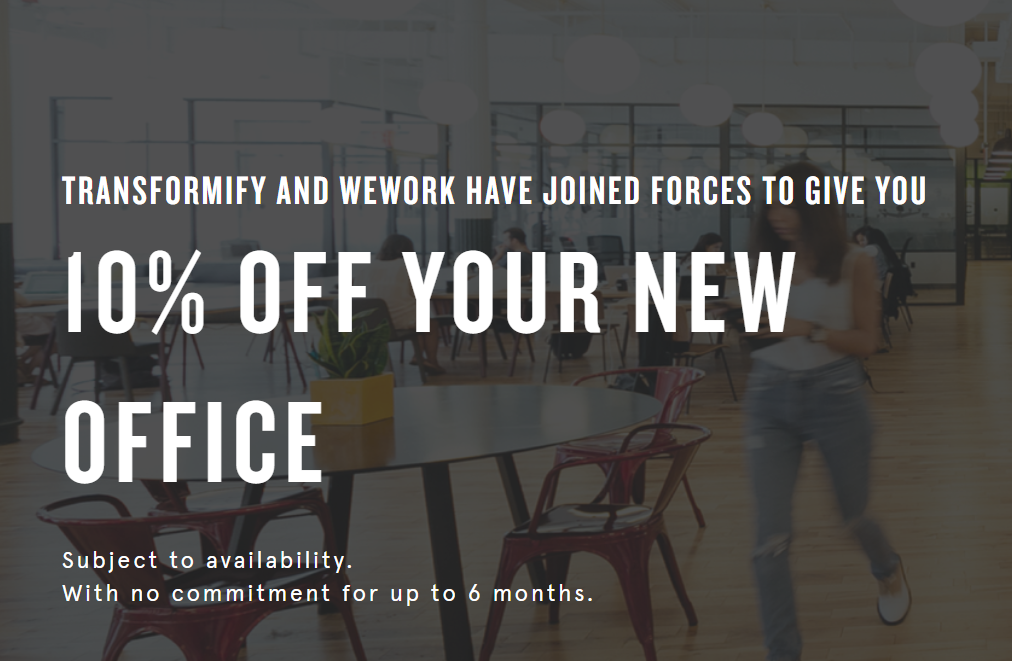 Transformiy Offer
Are you looking to hire? Or maybe you are looking for a recruitment software?
Get 20% discount on all Transformify services and recruitment software solutions for up to 12 months.
ATS ( Applicant Tracking System)
Recruitment Software for Managing Freelancers and Temporary Workers
Service Optimizer: Hire Freelancers, Experts, and Consultants at ease. (B2B)
Please note that Transformify is not in a position to waive bank or payment provider fees if those are applicable.
Entering new markets has never been easier. Simply hire freelancers locally via Transformify and consolidate teams in a workspace provided by our partners. Once the market has been validated, our clients are free to hire the freelancers as employees, rent more space to support the growth of their team and benefit from all other business services.
Transferring cross-border payments to freelancers and employees is a breeze too. Transformify billing/ self- billing and payments solution is a B2B service allowing our clients to transfer payments to and receive invoices from only one vendor – Transformify. We take care of the rest. No need to keep information about the bank accounts of the hired employees and freelancers or to monitor foreign exchange rates.
Why Startups Fail?
No market need, ran out of cash, not the right team, get outcompeted, pricing/cost issues, poor product, lack of a business model, lost focus, product mis-timed, ignored customers, and legal challenges to name a few reasons.
More often than not, the startups are underfunded, the teams are young and bright but lack experience managing people and processes, the founders tend to engage with too many activities simultaneously and no sufficient time is left to pay attention to the customers and analyze their feedback.
Most of the above challenges could be addressed by providing access to an ecosystem, mentors, talent pool, funding, and business services.
Transformify & LeanTrack Joint Initiatives
LeanTrack for Her
LeanTrack for Her is an initiative supporting female-led companies to increase female participation in the startup ecosystem.
As a certified women-owned enterprise and 2017 First Women Award winner, Transformify engages with women empowerment worldwide.
Transformify & LeanTrack: 1000 Interns
In many countries, the youth unemployment rate is high and lots of students even postpone their graduation to have extra time for securing a job.
Transformify & LeanTrack: Thousand Interns program provides 6-month training on the job to bright students worldwide. All of them will receive a certificate and an internship agreement, and the best performing interns will be hired by Transformify upon graduation or secured a job with Transformify's clients.
Market Entry Pack
Growth requires to enter new markets, hire teams abroad, develop marketing and business strategies addressing the local needs and the cultural differences. Having access to trusted local partners and talent, knowing the risks and how to mitigate them is key to the success.
The traditional market entry scenario would involve raising a new funding round, incorporating a subsidiary abroad and massive spending on hiring, rent, legal and tax advisors, accountants, etc. As timing is of utmost importance, it is very likely that by the time the startup is ready to enter the market, it is already too late as the competitors have gained an advantage.
Now imagine that the startup is able to enter a new market in two weeks. Sounds impossible?
LeanTrack & Transformify: Growth Hacking Pack for Startups makes it possible on a tight budget.
Hundreds of thousands of job seekers worldwide have provided information about their skills, desired pay rate, and location. The free ATS (Applicant Tracking System) allows Transformify's clients to quickly select the right candidates and interview the shortlisted applicants in a few days.
Renting an office would normally mean to sign a binding agreement for at least 12 months BUT not with Transformify's key partners providing workspace worldwide. Consolidating a team abroad, growing or downsizing your team is no longer a costly exercise.
As Transformify's billing/ self-billing and payments solution is a B2B service, all applicants are initially hired as freelancers via Transformify CSR recruitment platform, there is no need to incorporate a subsidiary abroad or to transfer cross – border payments.
Once the market is validated, it is much easier to raise funding to expand further and establish the presence of the business.
Or, if there is no product-market fit, the startup can close the operations in a month and minimize the losses.
Global Entrepreneurial Podcast Series
Lots of people have ideas, it is the ability to execute, and the access to funding and strategic advice that make a difference. The Global Entrepreneurial Podcast Series address the needs of young entrepreneurs, students, and small business owners who are eager to learn how to start a business, how to build a team, how to develop and execute marketing, business development and growth hacking strategies, how to develop a business plan, what budgeting is all about, why the investors may not be interested in their idea or may not like their pitch, etc.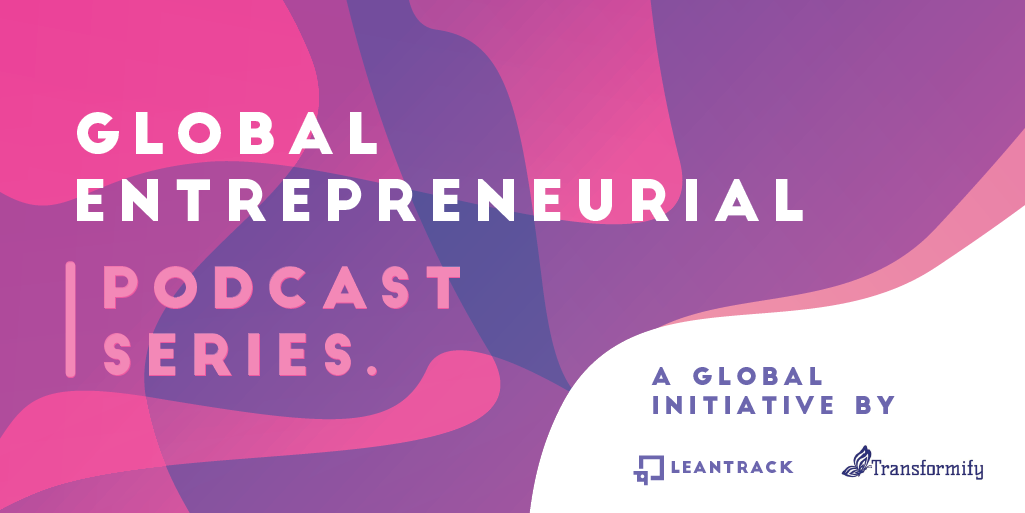 Transformify is a CSR Recruitment Platform that helps connect business with the most qualified workers. The recruitment software implements an intelligent learning algorithm that searches and matches companies or employers with the most qualified and desirable candidates based on their skills, certifications, location, and salary expectations among other things.

With Transformify, the employers can get the best independent contractors, freelancing professionals as well as regular employees to fill vacancies in their organization, whether working remotely, telecommuting or in office. The recruitment software also comes with a billing and self-billing capabilities that allow businesses to transfer secure payments worldwide. A free ATS (Applicant Tracking System) is also included in the pack.



Transformify bridges the gap between the best and the brightest freelance professionals and employees seeking employment and individual employers, companies, and organizations that are looking for remote-based or in office workers that match their requirements and other criteria.

With Transformify, the employers don't have to exert much effort filtering out their pool of candidates, which can be quite time-intensive and very demanding. The recruitment software implements powerful algorithms that go through candidates' details and threshes out the whole list, providing you with a pool of job seekers that match the criteria you have set, including skills, salary expectations, location, and more.
The CSR Recruitment platform offers access to a large pool of job seekers from more than 150 countries. The hiring process becomes so streamlined and accelerated that hiring the perfect person is a breeze and the chances of ending up with a ''Bad Hire'' are minimal.

For job seekers, searching for employment becomes a walk in the park. Transformify works with employers based on three continents and with its smart matching algorithm, finding a job that is aligned with their career path and trajectory becomes less difficult and more exciting.
Transformify is also loaded with billing, self-billing, and payment transfer services, centralizes all your payments to a single vendor and Transformify will handle the rest of grunt work, leaving you free to concentrate on other things that matter most.
LeanTrack is a youth entrepreneur community and mentoring platform in India. The organization works with university and high school students on their ideas to develop successful and sustainable businesses. We aim to build a strong and productive ecosystem for student startups to flourish by creating a robust community of startups and providing them with industry-level support and mentorship. This is done via our Pre-Accelerate Programme and Entrepreneurial Workshops.
With the vision to support UN's SDG 8 of Decent Work and Economic Growth, LeanTrack has adopted an entrepreneurial approach to providing jobs by helping youths set up companies and uplift communities.