Starting a business is exciting but scaling it is key to its success. Thus, Transformify & Startup Leadership have joined forces with global business services providers to give access to essential services such as workspace, recruitment, billing, and payment transfers for FREE or at a discount.
Quick Links
Market Entry Pack for Startups
​​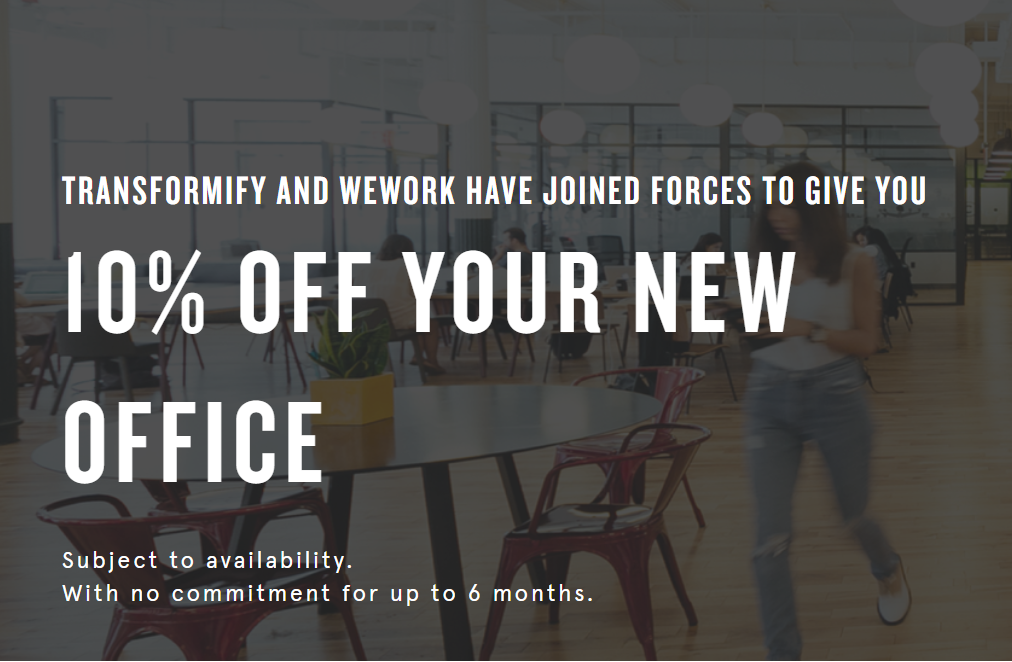 Entering new markets has never been easier. Hire freelancers and independent contractors locally via Transformify and consolidate teams in the workspace provided by our partners. Once the market has been validated, our clients are free to hire the freelancers as employees, rent more space to support the growth of their team and benefit from all other business services.
Transferring cross-border payments to freelancers and employees is a breeze too. Transformify billing/ self- billing and payments solution is a B2B service allowing our clients to transfer payments to and receive invoices from only one vendor – Transformify. We take care of the rest. No need to keep information about the bank accounts of the hired employees and freelancers or to monitor foreign exchange rates.
How to scale your business?
It's all about strategy and execution.
Define your ''endgame''
What are your exit strategy and target valuation? Once you have the answer, work out the revenue streams, cost structure, pricing, etc. that could take you there. Keep an eye on your competitors. Learning from their mistakes can help you to outcompete them.
Define your target markets
Knowing who your customers are is key, but knowing which markets are likely to contribute to a fast growth is not less important. Entering a hard to penetrate market will result in high costs and will slow you down. On the contrary, entering a market with a high growth potential will boost your revenue and traction.
Scaling your business requires to enter new markets, hire teams abroad, develop marketing and business strategies addressing the local needs and the cultural differences. Having access to trusted local partners and talent, knowing the risks and how to mitigate them is key to your success.
The traditional market entry scenario would involve raising a new funding round, incorporating a subsidiary abroad and massive spending on hiring, rent, legal and tax advisors, accountants, etc. As timing is of utmost importance, it is very likely that by the time the startup is ready to enter the market, it is already too late as the competitors have gained an advantage.
Now imagine that the startup is able to enter the new market in two weeks. Sounds impossible?
Startup Leadership & Transformify: Scale Your Business makes it possible on a tight budget.
Thousands of job seekers worldwide have provided information about their skills, desired pay rate, and location. The free ATS (Applicant Tracking System) allows Transformify's clients to quickly select the right candidates and interview the shortlisted applicants in a few days.
Renting an office would normally mean to sign a binding agreement for at least 12 months BUT not with Transformify's key partners providing workspace worldwide. Consolidating a team abroad, growing or downsizing your team is no longer a costly exercise.
As Transformify's billing/ self-billing and payments solution is a B2B service, all applicants are initially hired as freelancers via Transformify CSR recruitment platform, there is no need to incorporate a subsidiary abroad or to transfer cross-border payments.
Once the market is validated, it is times easier to raise funding to expand and establish the presence of the business.
Or, if there is no product-market fit, the startup can close the operations in a month and minimize the losses.
Define your business development and marketing strategies
Key partnerships, affiliate programs, business directories, conferences, and events – there are almost unlimited opportunities and it's easy to lose focus and overspend. Develop several scenarios, test them, and go for the one that works best.
Secure funding
Once the business scaling strategy has been developed, it's much easier to work on the estimates and come up with a budget.
What are the funding options?
Bootstrapping, bank loans, government grants, and equity funding to name a few. The cost of capital varies a lot and depends on the funding option so choose wisely.
About Transformify

Transformify is a CSR Recruitment Platform that helps connect business with the most qualified workers. The recruitment software implements an intelligent learning algorithm that searches and matches companies or employers with the most qualified and desirable candidates based on their skills, certifications, location, and salary expectations among other things.

With Transformify, the employers can get the best independent contractors, freelancing professionals as well as regular employees to fill vacancies in their organization, whether working remotely, telecommuting or in office. The recruitment software also comes with a billing and self-billing capabilities that allow businesses to transfer secure payments worldwide. A free ATS (Applicant Tracking System) is also included in the pack.


Benefits for Employers


Transformify bridges the gap between the best and the brightest freelance professionals and employees seeking employment and individual employers, companies, and organizations that are looking for remote-based or in office workers that match their requirements and other criteria.

With Transformify, the employers don't have to exert much effort filtering out their pool of candidates, which can be quite time-intensive and very demanding. The recruitment software implements powerful algorithms that go through candidates' details and threshes out the whole list, providing you with a pool of job seekers that match the criteria you have set, including skills, salary expectations, location, and more.
The CSR Recruitment platform offers access to a large pool of job seekers from more than 150 countries. The hiring process becomes so streamlined and accelerated that hiring the perfect person is a breeze and the chances of ending up with a ''Bad Hire'' are minimal.
Benefits for Job Seekers

For job seekers, searching for employment becomes a walk in the park. Transformify works with employers based on three continents and with its smart matching algorithm, finding a job that is aligned with their career path and trajectory becomes less difficult and more exciting.
Transformify is also loaded with billing, self-billing, and payment transfer services, centralizes all your payments to a single vendor and Transformify will handle the rest of grunt work, leaving you free to concentrate on other things that matter most.
About Startup Leadership
The Startup Leadership Program (SLP) is a highly selective, global, world-class training program and lifelong global network of outstanding founders, leaders, and innovators who want to become startup CEOs. Classes are held on evenings or weekends. We take no equity.
The program began in Boston in 2006 with seven Fellows (participants). It has grown to 28 cities in 13 countries. Every year 15-25 Fellows join the program in every city. This year 500 Fellows will go through the program as a single class.
Our program is truly global. You can start in one city, but attend any class in any city worldwide. During the program, and for life, you can apply to pitch at investor demo days on three continents and build relationships with growing numbers of entrepreneurs in your sector.
SLP Fellows (participants) have founded more than 1,300 successful startups including ixigo, Innoz, Momelan, Runkeeper, SideTour, Shareaholic, Ubersense, Savored, Voicetap, and many others, which have collectively raised more than $500M in funding. Many have been acquired. It is a measure of the caliber of the people in the program.
Startup Leadership has a social mission. Being an entrepreneur is an incredible privilege – a chance to chase one's own dream. So, we ask for a simple promise: use your knowledge, wealth, and resources to make the world a better place in your lifetime. Together, we will make a big difference.