To help startups and SMEs grow fast and enter new markets, Transformify has partnered up with WeWork to offer startups and entrepreneurs the opportunity to hire talent anywhere in the world, transfer secure payments worldwide, and consolidate teams in a workspace provided by WeWork.
WeWork Offer
10% off your new office with WeWork.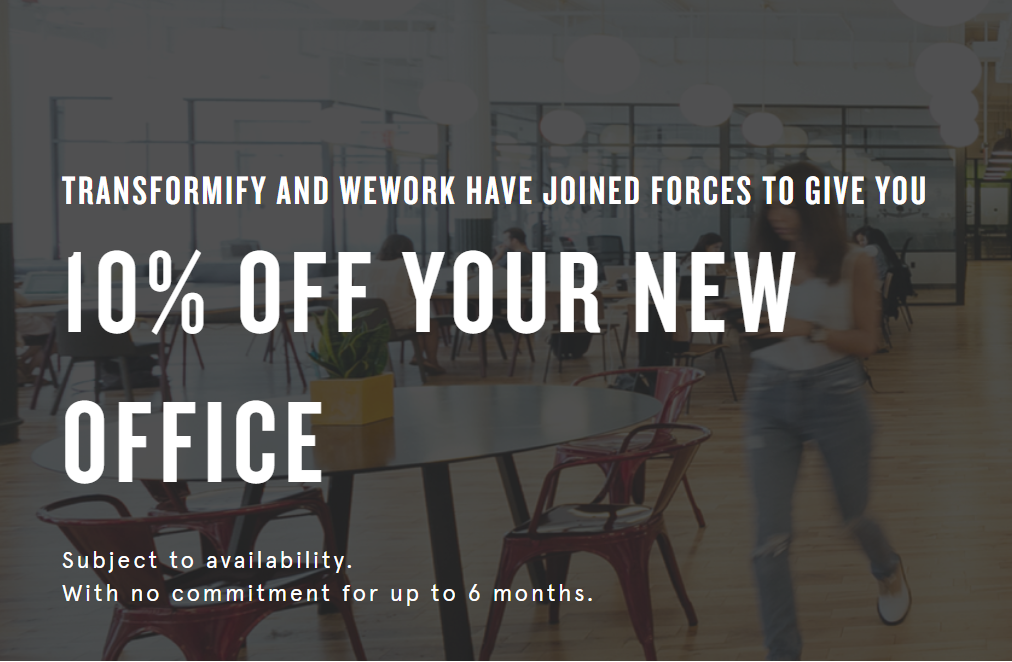 Transformify Offer
WeWork members receive 20% discount on all services for up to 12 months.
ATS ( Applicant Tracking System)
Recruitment Software for Managing Freelancers and Temporary Workers
Service Optimizer: Hire Freelancers, Experts, and Consultants at ease. (B2B)
Please note that Transformify is not in a position to waive bank or payment provider fees if those are applicable.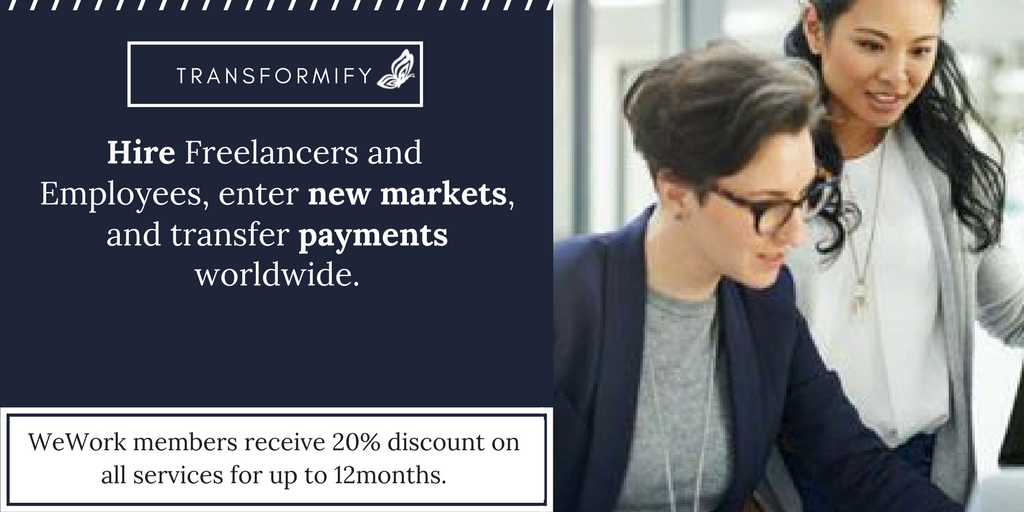 About Transformify
Transformify is a CSR Recruitment Platform that helps connect business with the most qualified workers. The recruitment software implements an intelligent learning algorithm that searches and matches companies or employers with the most qualified and desirable candidates based on their skills, certifications, location, and salary expectations among other things.
With Transformify, the employers can get the best independent contractors, freelancing professionals as well as regular employees to fill vacancies in their organization, whether working remotely, telecommuting or in office. The recruitment software also comes with a billing and self-billing capabilities that allow businesses to transfer secure payments worldwide. A free ATS ( Applicant Tracking System) is also included in the pack.
About WeWork
WeWork is a global network of workspaces where companies and people grow together. WeWork transforms buildings into dynamic environments for creativity, focus, and connection. More than just the best place to work, though, this is a movement toward humanizing work. CEOs can help each other, offices can use the comforts of home, and we can all look forward to Monday if we find real meaning in what we do.
Transformify bridges the gap between the best and the brightest freelance professionals and employees seeking employment and individual employers, companies, and organizations that are looking for remote-based or in office workers that match their requirements and other criteria.
With Transformify, the employers don't have to exert much effort filtering out their pool of candidates, which can be quite time-intensive and very demanding. The recruitment software implements powerful algorithms that go through candidates' details and threshes out the whole list, providing you with a pool of job seekers that match the criteria you have set, including skills, salary expectations, location, and more.
The CSR Recruitment Platform offers access to a large pool of job seekers from more than 150 countries. The hiring process becomes so streamlined and accelerated that hiring the perfect person is a breeze and the chances of ending up with a ''Bad Hire'' are minimal.
Transformify's billing, self-billing, and payment transfer services centralize all your payments to a single vendor -Transformify. We will handle the rest of grunt work, leaving you free to concentrate on the things that matter the most. Whether these are payments to freelancers and independent contractors or you want to outsource the payroll payments to your employees, Transformify is there for you saving you time, cost, and effort.
For job seekers, searching for employment becomes a walk in the park. Transformify works with employers based on three continents and with its smart matching algorithm, finding a job that is aligned with their career path and trajectory becomes less difficult and more exciting. Once the job seekers set up their skills, the CSR Recruitment Platform will automatically email jobs requiring matching skills.
Even more important, Transformify's services are at no cost to the job seekers. Registering a profile, applying for jobs, and receiving payment are free of charge. Transformify offers a payment guarantee to the freelancers and independent contractors assigned to a project via Transformify CSR Recruitment Platform.