WeWork and Transformify have joined forces to give you 10 % off your new office.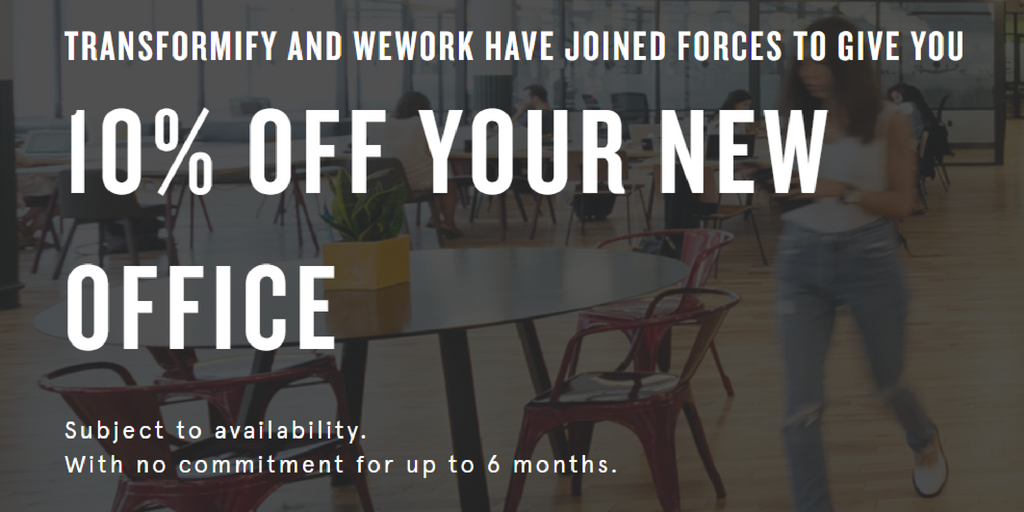 Transformify is a Recruitment Platform that helps connect business with the most qualified workers. The recruitment software implements an intelligent learning algorithm that searches and matches companies or employers with the most qualified and desirable candidates based on their skills, certifications, location, and salary expectations among other things.
With Transformify, the employers can get the best independent contractors, freelancing professionals as well as regular employees to fill vacancies in their organization, whether working remotely, telecommuting or in office. The recruitment software also comes with a billing and self-billing capabilities that allow businesses to transfer secure payments worldwide.
WeWork members get 20% off all Transformify Recruitment CRM software solutions for up to 12 months.
WeWork is a global network of workspaces where companies and people grow together. WeWork transforms buildings into dynamic environments for creativity, focus, and connection. More than just the best place to work, though, this is a movement toward humanizing work. CEOs can help each other, offices can use the comforts of home, and we can all look forward to Monday if we find real meaning in what we do.