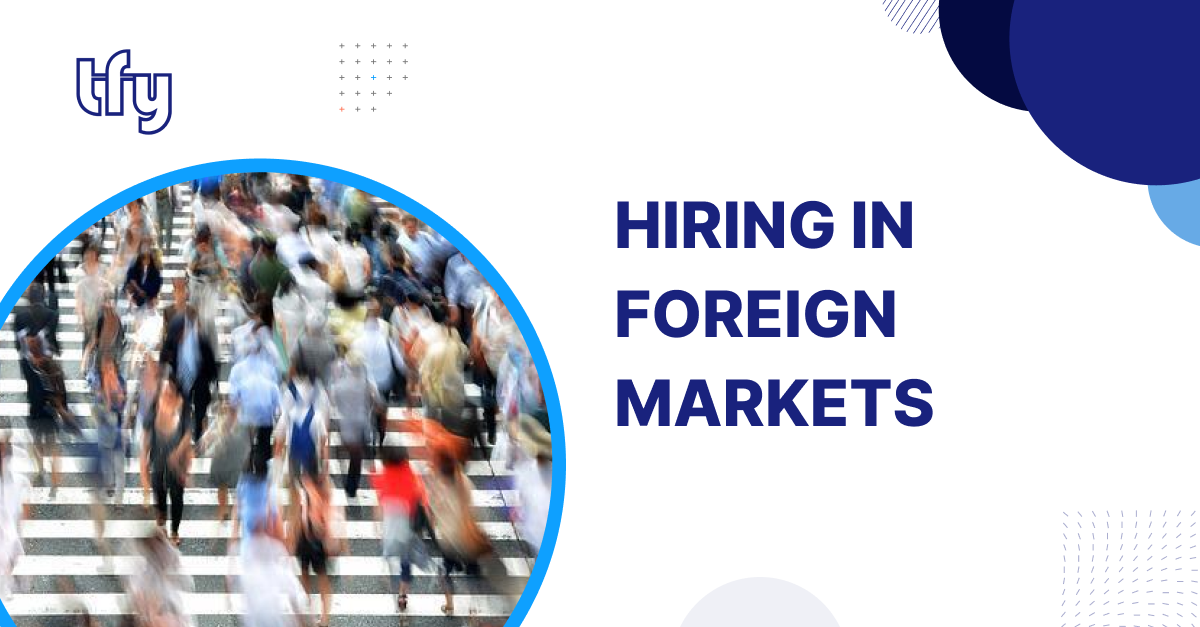 Any organization looking to expand into foreign markets must be willing to employ people from across all borders. Employing people in the foreign market, however, comes with its challenges because different countries around the world have their unique hiring policies. At the same time, companies looking to expand would be faced with the challenges of scouting for the best hands available in the new country and compliantly hiring them without violating any foreign rules. Hiring internationally has many benefits, but the complexity of the process has made many organizations shy away from expansion.
Therefore, if you are looking to expand your organization and want to hire people in the foreign market, below are a few challenges you will likely face:


Finding the right talent
In a situation where you are hiring an employee who is within the same region as you, it is easier to see them, schedule a one-on-one interview with them and get to know them. However, when hiring a foreign candidate, you cannot see them physically unless you schedule a virtual meeting which, if we are being realistic, is not as reliable as a physical meeting. Although the employee's credentials must have been sent to you beforehand, if your organization likes to do a physical study of your employee before they are hired, then it would be difficult in this case. It is one thing to find the right candidate; it is another thing for the candidate to be willing to relocate. Sometimes, the right candidate might not be willing to leave their loved ones behind, making the process even more complex.
Timeline
When hiring an international employee, you must familiarize yourself with your country's foreign employment regulations because if this is not done, your employee's required timeline will be prolonged. Sometimes, it could take up to a year for a candidate to get their work visa ready, and during this period, it is possible that the employer already has another candidate ready to fill up this space. Employing a foreign candidate will take a lot of time, especially when the employee is expected to relocate. It is, however, easier if you want your employee to work remotely.
Cultural shock
When a person relocates to a new country, for the first few years, they would have so many struggles because of the sudden change in culture, food, and fashion, among other things. Cultural shock can impact your employee's life negatively, which could, in turn, affect their work life and productivity. While some employees can overcome cultural shock by adapting to the new environment independently, others might need help transitioning into their new life. As an organization looking to hire internationally, you have to provide educational materials which would help your foreign employee settle into their new environment.
Settling in
When employing a foreign candidate, you must also consider how your employee will settle into the work and home environment. At the initial point of employment, the employee would have to live in a home provided by the organization until they start receiving salaries which will then enable them to get their apartment and pay rent. All of these things must be considered because the employee is coming in your organization's name, and they must be taken care of as they settle into their new life.
The Solution
Considering the list above, hiring people from the foreign market would cost a lot of time and money for any organization. However, there are other ways to employ foreign workers without too much hassle. Consider hiring remotely, the freelance market is growing every day, and there is no limit to the professional abilities of freelancers. Using online freelancing platforms like Transformify, you can post job adverts and employ the best hands to handle your business remotely. It would help if you also considered outsourcing to PEO companies. A Professional Employer Organization, PEO, is a company responsible for helping other organizations employ professionals without stress or problems. You can search for the best PEO companies online to help you handle your HR activities while focusing on better things. Finally, it would be best if you considered branching out to different countries. Although this would cost a lot, it would save you the complexity of the process.
Employing foreign workers can be very complex if you as an organization do not do the needful before venturing out. There are many things to consider before deciding how to go about it, including the employment visa requirement. You must research what is required in your country for a foreigner to be employed. Other things to be considered are accommodation, employee culture, etc. If you do not plan for these beforehand, the process will be even more difficult. However, employing the help of PEO companies could help make the process less stressful.