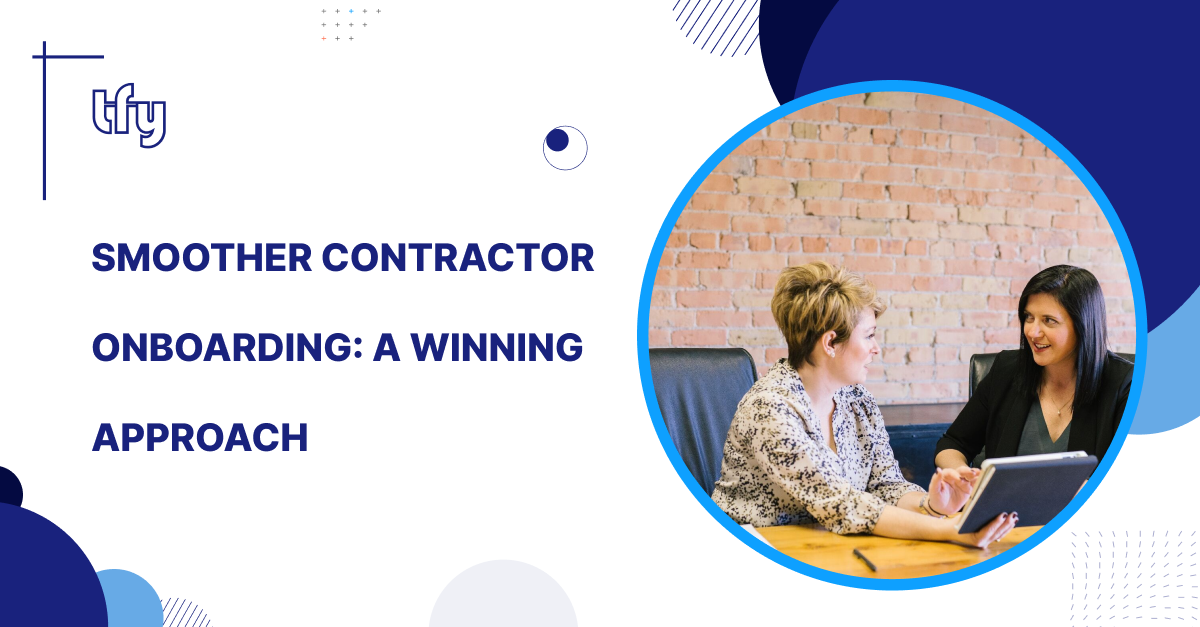 Contractor onboarding integrates new freelancers and contractors into your company's culture, values, expectations, and norms. It's a deliberate effort to help them settle into the team and understand their new role. A proper, well-planned onboarding is the springboard that new hires need to launch a successful career in your company.
If your onboarding process is haphazard, recruits will struggle to familiarize themselves with their new roles, which undercuts their ability to perform optimally. New hires feel unsupported, they try to figure out things on their own, and costly mistakes happen in the process. Productivity & job satisfaction take a nosedive as a result, and that's how your company ends up losing talented professionals to competitors.

The Importance Of A Proper Onboarding Strategy
With a well-planned and executed onboarding process, contractors and freelancers quickly get comfortable in their new roles. That boosts your company's employee engagement, efficiency, productivity, satisfaction, and retention. Let's elaborate:
With proper onboarding, new hires understand your company culture early on and get immersed in it from day one.
Freelancers buy into your company's vision, mission, core values, and guiding set of beliefs from the onset so they can align their own beliefs and values to those of the company.
An effective onboarding process provides recruits with the resources, training, and tools they need to get their job done.
Contractors understand how success is measured in the company and what their new role demands from them.
Proper onboarding includes proper mentoring from senior staff members. That helps recruits grow professionally, making them even more valuable assets for your company.
Through mentorship, youthful freelancers learn how to think independently and make meaningful contributions to your company's culture.
Proper onboarding flattens the slope for new hires during the acclimation period.
A Winning Approach to Smooth Contractor Onboarding
We have established how crucial your onboarding process is to your contractors' success or failure. The question, therefore, follows: How do you streamline your contractor onboarding approach for optimal results? Here are five employee onboarding tips for you:
Be intentional about communication and collaboration.
The primary focus of any onboarding process is to make recruits feel welcome, engaged, and supported. That can't be possible without proper communication. You also want contractors to build trust with their new colleagues, supervisors, departmental heads, clients, and everyone in their new environment. That will only happen when you put in place proper channels for collaboration. It's also through effective communication and cooperation that new hires gain the skills and understanding they need to excel in their new roles, both individually and as team players.
How can you improve communication and collaboration in your onboarding process?
Have team meetings regularly.
Train yourself and the managers to be active listeners. In other words, you should listen to understand the contractor's perspective, not respond. Ask for clarification if something isn't clear.
Keep communications brief, clear, and to the point. Don't over-complicate your message.
Encourage contractors to ask questions and double-check with their managers if they're unsure about anything.
Give regular and honest feedback.
Stay open-minded. Be willing to enter into a dialogue with new staff members with whom you don't share a common outlook on life.
Invest in and make good use of practical communication tools for the workplace. These include tools for video conferencing, team messaging, webinars, collaboration, etc.
Invest in comprehensive training.
Comprehensive training will get recruits firing on all cylinders sooner than you'd expect. This is good for all parties involved. When contractors and freelancers make impactful contributions from the outset, they get a strong sense of achievement and self-belief, which later morphs into a healthy attachment to the company. That boosts productivity going into the future.
There are several components that make up a comprehensive training program:
Mentors (a buddy system): Deploying seasoned employees/contractors as mentors to new hires has three benefits. First, the mentor feels valued, respected, and trusted by the company management. Two, the mentee drinks directly from the mentor's cup of experience and knowledge. This helps both the mentor and the mentee to grow professionally. Third, both the mentor and the mentee get a chance to work closely and build a meaningful interpersonal relationship.
Manager support: Top officials at the company should offer support to the contractors whenever possible.
A training module: The module should describe the company's mission, vision, values, culture, etc., in a language that's simple to understand. It should give contractors and freelancers direction and purpose.
A rerouting strategy: If a contractor gets off track during the training phase, you should have a clear plan for rerouting them and getting them back on track.
Regular feedback: Ensure new team members know how well they're progressing and what they need to do to catch up with the rest of the team.
Team-building exercises: These include workshops and seminars that promote teamwork, professional growth, and camaraderie.
A reward program: The program should recognize and appreciate freelancers who progress exemplarily well.
Streamline new hire paperwork.
Contractors' paperwork includes an offer letter, employment contract, signed contracts, and payroll forms, among others. For a smooth onboarding process,
Have a recruitment team that reviews all forms and other documents to verify their accuracy.
Ensure the contractor signs all documents on the first day to make all agreements official.
Have a checklist to ensure no document is skipped during the signing process.
Give contractors their invoices to make it easy for them to file their taxes.
Send via email all the documents that contractors and freelancers need to fill out a few days prior to onboarding and training.
Outsource professional help
If you're an ambitious company, expanding to new regions has to be one of your long-term goals. But then expanding your company will obviously expand your team and overstretch your in-house human resource (HR) department. That's why you need to outsource professional help. You can, for example, contract an employer of record (EOR) to manage your international employees, freelancers, and independent contractors. The EOR will streamline your onboarding process and do all the HR heavy lifting for you. Among other things, the EOR will:
Simplify international hiring for you. You will not need to set up new local entities abroad for you to expand internationally.
Handle all issues related to payroll and compliance.
Save you months of compliance administration. They will navigate local laws on your behalf so you can focus on running your business.
Ease the cost, time, and stress of onboarding international freelancers and contractors.
Create a welcoming & positive company culture.
You'll foster a positive culture that helps contractors settle in quickly by:
Sending a welcome email to each new hire.
Checking in with them regularly, especially in the first few weeks.
Soliciting and acting on their feedback frequently.
Facilitating informal interactions, e.g., breaks or virtual happy hours.
Promoting diversity and inclusion by respecting, embracing, and supporting team members' diverse backgrounds, identities, perspectives, and experiences.
Creating a safe space where contractors and freelancers can express their opinions and ideas without judgment or discrimination.
Managing office politics to ensure that issues or conflicts are solved promptly, amicably, and fairly. This promotes a culture of mutual respect.
Providing adequate training and resources to give recruits as much autonomy as possible.
Final word
Creating a smooth onboarding process for contractors and freelancers is critical for business success. It helps new hires feel comfortable, confident, and motivated at work, which in turn enhances your company's productivity, reputation, and profitability. Follow more tips through our contractor management blog.