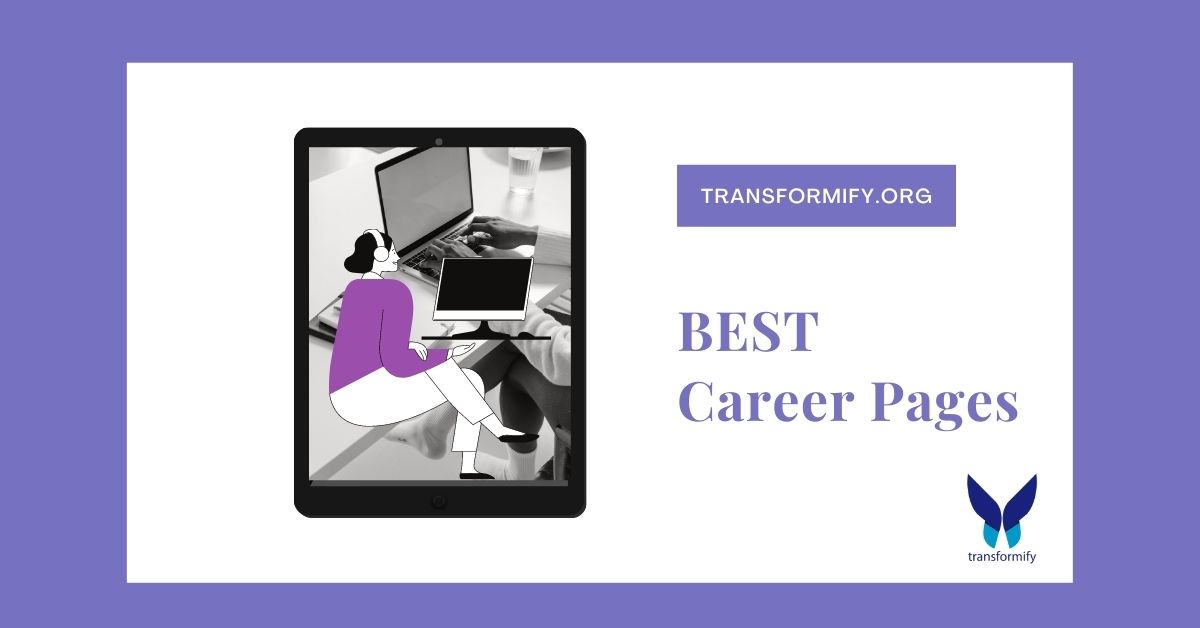 Your career page has the superpower to attract top talent and boost your employer brand. There is one catch, though – your career page needs to be informative, well-designed and SEO (search engine) optimized. It is your career page that job candidates visit first to learn about your business, your corporate culture and your growth potential.
Is the business growing fast, what are the latest news, what working for that company feels like? Needless to say, top candidates have many options and are unlikely to make quick, uninformed decisions. They are likely to check a potential employer insight-out prior to accepting a job offer.
Designing and maintaining career pages on Transformify is a walk in the park. Once published, your career page will be immediately indexed by search engines and will start attracting qualified candidates. Moreover, each job listed on Transformify ATS will automatically appear on your career page. Even better, creating a career page is free of charge and no fees apply.
How to build your Career Page on Transformify?
First, you need to register as an Employer on Transformify – Link. Once you log in, navigate to the Settings section as shown below.
What information is to be provided in each company career page section?
Overview
The overview section provides general information about the company, its headcount, headquarters and more. Although most fields are not mandatory, skipping the information may be seen as a red flag by qualified candidates. Why would a company hide information about its headcount? No revenue information has been provided, is the company facing financial difficulties lately? These and many other questions are likely to pop up in the candidate's head.
The company brief shall provide valuable information about the business, recent achievements or product launches, funding rounds, awards, etc. This is your chance to stand out from the crowd.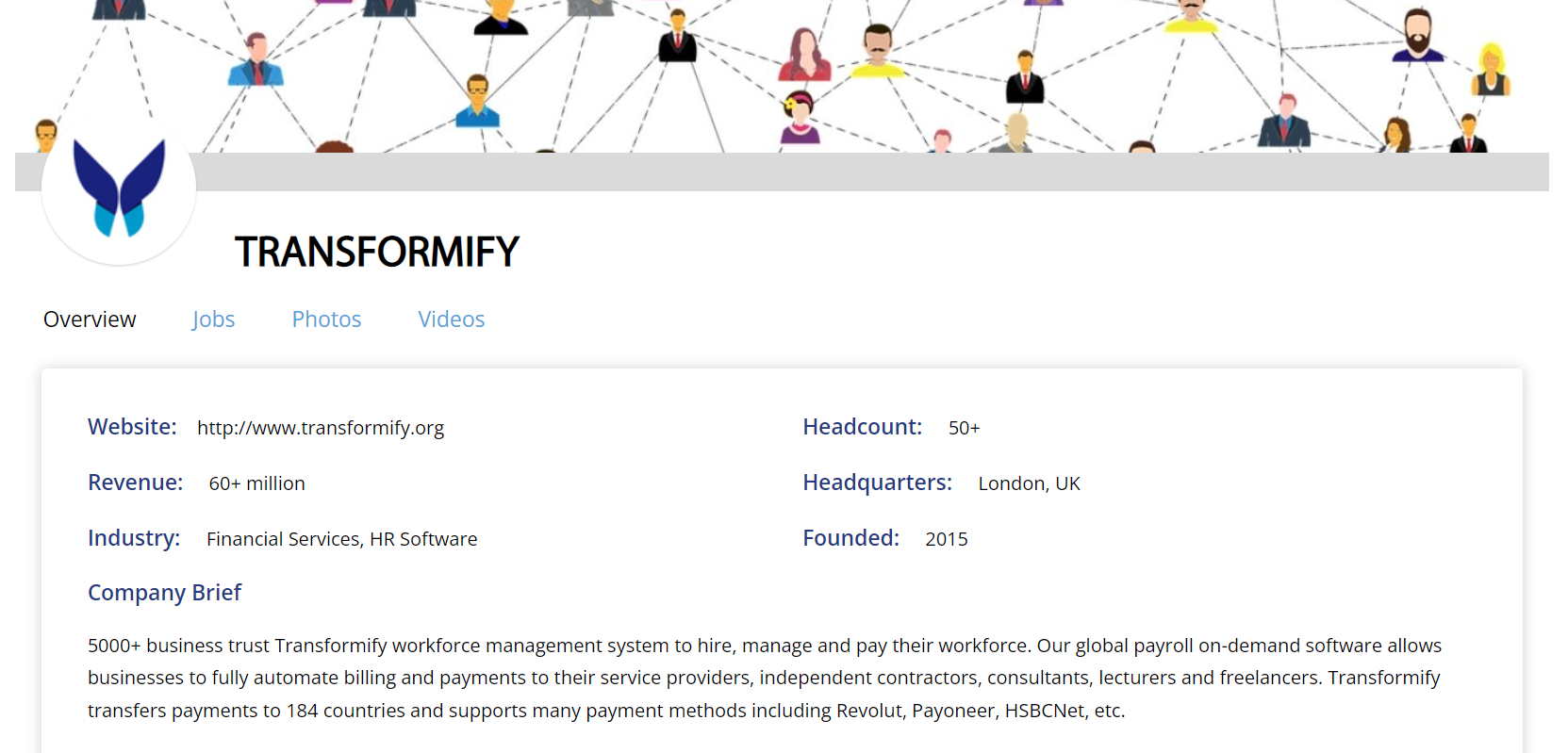 Custom Company Page URL
In many cases, the registered legal name of a business does not coincide with the brand names known to the public. Moreover, the registered legal name may not be recognized by the job candidates at all as they are familiar with the brand and will use the brand name to search for jobs. To avoid confusion, you can create your custom company career page URL as shown in the example below.
Use your brand name if it differs from your company name.
Example:
Legal name: SDJ Inc.
Brand name: Art Heroes
Your custom career page URL: http://www.transformify.org/career-page/overview/art-heroes
It is your brand name the job candidates are familiar with.

Jobs
All jobs published via Transformify ATS will automatically appear on the list and the candidates can immediately apply for them. Having said so, there is no need to fill in any information in this section of your career page as it will be populated automatically.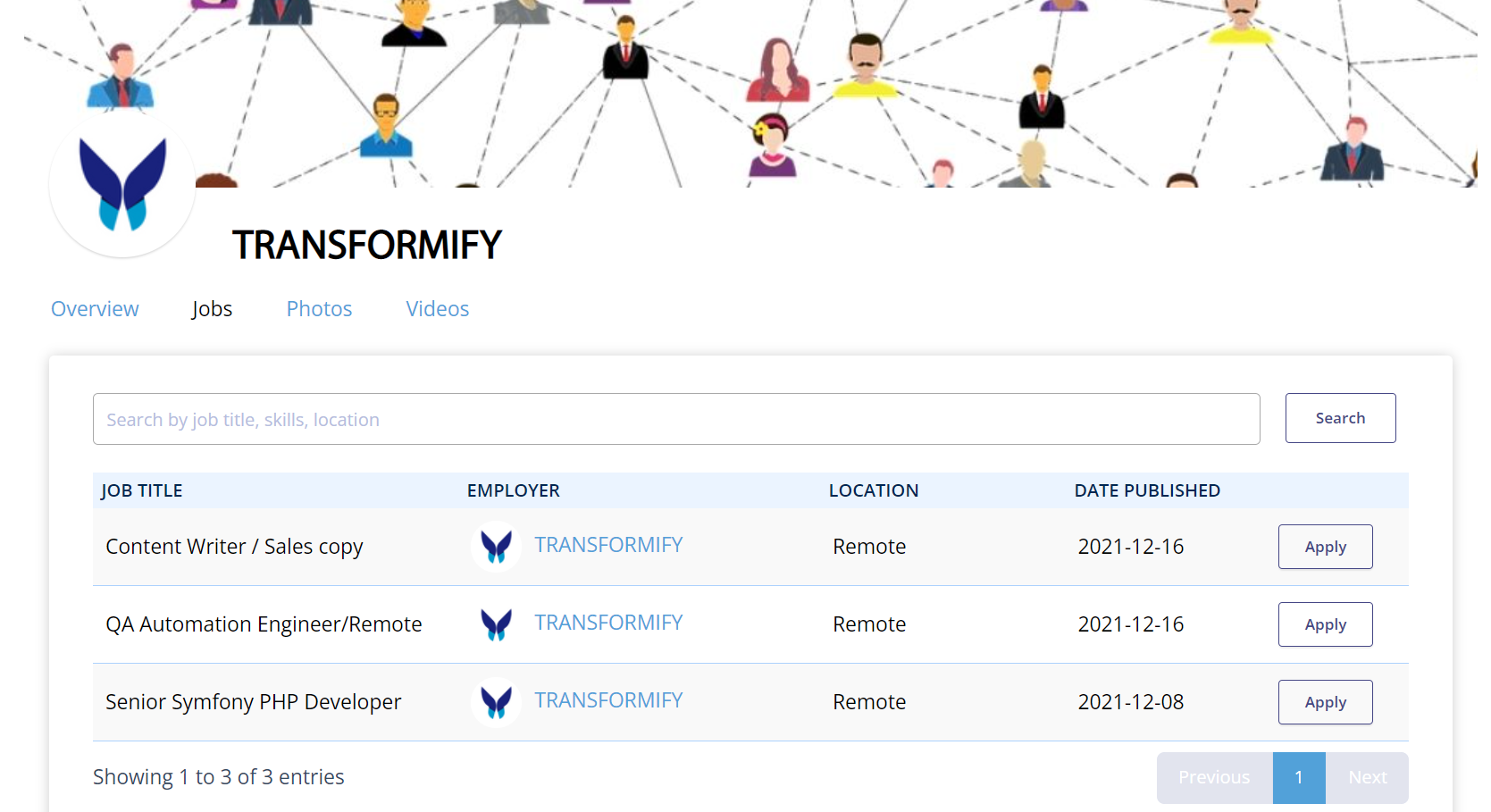 Photos
An image is worth a thousand words, and it is even more so when it comes to showcasing your corporate culture, team building events, etc. The awards your company has received and your office also have the potential to attract the attention of top talent. Pick up photos that tell a story. It could be your daily stand-up meetings, all-hands events, brainstorming sessions, your senior managers and directors receiving awards, etc. Although most companies have adopted remote work during the Covid-19 pandemic, many are embracing the hybrid work concept that allows their workforce to work in the office from time to time to socialize and collaborate face-to-face. Thus, providing photos of your office is strongly advisable. You will be surprised how selective the candidates are when it comes to a career change. If they are looking for a quiet, relaxed atmosphere as it is vital for their creativity and productivity, an open space office or cubicles are unlikely to attract them. Health and safety are also on top of candidate's lists, and they are unlikely to consider working from an office that has no daylight for example.
You can upload two types of photos – your banner image and photos showcasing your team activities and office. Please note that there are specific image sizes that you need to adhere to. Transformify has adopted the responsive design concept making sure that your images resize properly across all devices.
Videos
The good news is that there is no limit to the size of the videos you can upload. The only requirement is that the videos are published on YouTube and you own the copyrights. These could be product videos providing information about your products, interviews with heads of departments or hiring managers providing information about new projects and team dynamics, videos from team building events, award ceremonies, etc. Interviews with team members sharing insights around their daily tasks and telling the world why your company is their dream employer are particularly trending among top candidates. They want to see how their future coworkers feel about working at your company, what inspires and motivates them to stay with the job in the long run.
It is not only the job candidates that will see your videos. They have the power to attract new clients and partners as Transformify is used by thousands of businesses across the globe.
Uploading a video is a breeze – simply copy-paste the link to the video published on YouTube as shown below and it will appear on your career page.
Saving and publishing your career page
You can build your company career page on Transformify at your own pace. Take your time to fill in all sections and upload photos and videos. It can take a lot of time if your copywriters and marketing team are engaged in the process. Worry not, your company career page will not be published and visible to anyone unless you opt to do so. Click < Save> each time you provide new information. Click < Publish> only when you are ready with the final version of your company career page.
Unpublish your career page
If at any time you want to unpublish your company career page, you can easily do so by clicking < Unpublish>. Once you are ready with the changes, you can publish your company career page again by clicking <Publish>.
Supercharge your employer brand
Your company career page is SEO optimized and indexed by the search engines and your quality content will definitely attract lots of job candidates, potential clients and partners. To boost your employer brand even further, you can publish articles to Transformify HR Blog and provide in-depth information about your values, hiring practices, recent achievements of your team, etc. Interviews with top executives and product managers are also enjoying the attention of our readers.
Your diversity hiring practices and CSR programs will be on the radar of industry experts and job candidates that can directly benefit from them. Even more, Transformify marketing team can help you with relevant marketing campaigns and best practices to reach out to your target audiences across the globe.
Building a company career page on Transformify is easy and free of charge, what are you waiting for?