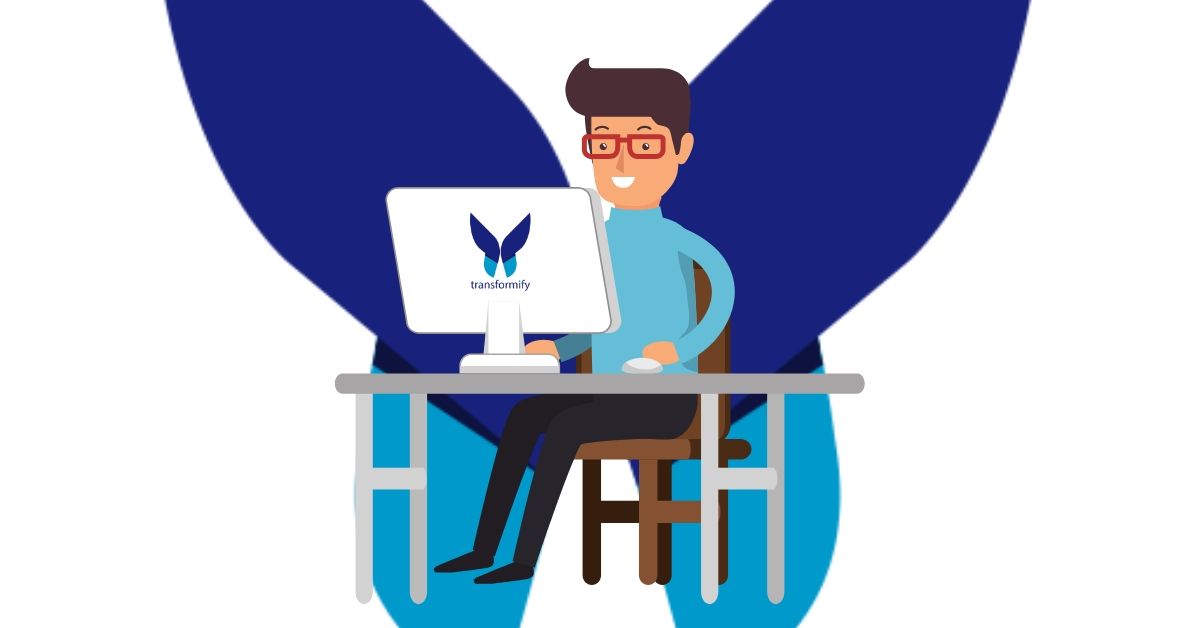 Entire industries like e-Learning, HoReCa, management consulting, BPO, Life Sciences and more rely on contingent workforce, independent consultants, experts and freelancers.
However, external workforce management can be complicated. HR software solutions and vendor management systems are the tools of choice for sourcing contingent workers, independent contractors and freelance talent.
How is Transformify different from vendor management systems like SAP Fieldglass and Oracle HCM?
Transformify is a fully customizable alternative to traditional vendor management systems. From a single dashboard, the hiring managers can onboard, manage and pay independent consultants and freelancers. Billing and payments are fully automated making duplicate payments absolutely impossible. On top of that, Transformify can seamlessly integrate with accounting software like Xero, QuickBooks, FreshBooks, ERP systems like Microsoft Dynamics,SAP, Oracle, time tracking software like TimeCamp, TimeDoctor, Kronos, project management software like Jira and Asana, etc. In fact, most employers, staff augmentation companies and temporary staffing agencies prefer to work with the same team of freelancers and independent contractors over time. Having access to your pool of freelancers and being able to communicate with them and provide information about new projects saves time, costs and effort.
Contingent workforce, consultants, independent contractors and freelancers
In times of uncertainty, most businesses rely on contingent workforce and freelancers. Creative industry, events management industry, tourism, HoReCa and more have been hit by the coronavirus outbreak. As the flow of new projects is hard to predict, business owners prefer to hire on a project basis to match costs and revenue and make the ends meet. At the same time, the competition is more fierce than ever and no one can afford poor quality or slowdowns. Working with a pool of freelancers and independent contractors who have demonstrated their competencies and loyalty tackles those issues.
Prior to COVID-19 outbreak, Transformify's customers were mostly interested in sourcing talented freelancers and filling roles as quickly as possible. Now, they already have pools of freelancers and work with them over and over again using our freelancer management software to assign projects to them, access historical data and transfer payments across the globe.
What are the most typical use cases?
E-learning
Digital schools and universities often manage thousands of tutors who have different schedules, teach different subjects, live in various countries and have agreed on a wide range of pay rates. Usually, these digital schools and universities use a minimum of 6-7 software solutions to track, manage the relationship with the tutors and transfer payments. Transformify freelancer management software simplifies the process, automates the payments and saves 60% ( or more) on costs.
Creative Agencies
Securing retainers is becoming '' mission impossible'' these days. Most agencies compete for a limited number of projects as marketing budgets are among the costs that get cut first in hard times and economic slowdown. At the same time, to win a project, creative agencies need to demonstrate that they have the right skills and competencies on their teams, provide references and portfolios. It is a relief to be able to quickly check which freelancers have worked on similar projects in the past and reach out to them via a click of a button.
Research and Development & Life Sciences Organisations
These businesses work with a large pool of researchers who need to complete certain tasks over a pre-defined period of time. As they usually depend on grants to fund their activities, it is rarely possible to have all researchers as full-time employees. Moreover, usually, the researchers work at universities and science labs and join research projects when invited. Each grant is subject to strict audits and it's impossible to engage researchers not having the right skills set. To address these needs, life sciences organizations have to be able to easily screen the skills of all researchers they have in their pool and invite those who meet the requirements. Needless to say, Tranformify's powerful matching algorithms empower the selection and management of the entire process.
HoReCa
Hotels, restaurants and cafes often work on a seasonal schedule. Beach bars, hotels by the seaside or in ski resorts and big resorts work for five or six months per year. It is impossible to train new seasonal employees at the beginning of each season. Hotel and bar owners call those employees who have already been trained and demonstrated a high quality of work. As vacation resorts need thousands of seasonal employees at the beginning of each season, hotel owners and managers need to have historical information about the previous seasons, the performance of their seasonal employees, the pay rates, etc.
Business Process Outsourcing (BPO)
Although in most cases, business process organizations sign long-term agreements with their clients, they often need to downsize or scale their teams ad-hoc to address the needs of their customers. Many BPO companies rely on contingent workforce on-demand and need seamless access to historical data, project management capabilities and payment automation.
Retailers & Fashion Industry
These industries experience seasonal hypes in demand and need to hire more floor staff, shop assistants and promoters around Easter, Christmas, St.Valentine's Day, Chinese New Year and other holidays or catwalks and fashion shows. These seasonal workers are needed for a short period of time only. As the quality of work is extremely important, companies in the fashion industry tend to work with the same makeup artists, photographers, hairdressers over and over again. Needless to say, using freelancer management software saves time, effort and money.
Why Choosing Transformify Freelance Platform & Freelancer Management Software?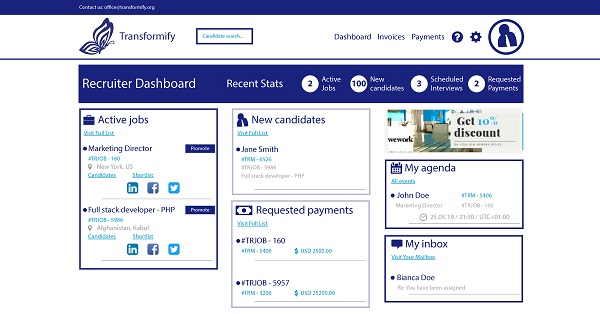 Your Very Own On-demand Talent Pool
Invite your team of freelancers and independent contractors to join Transformify at no cost. Thus, you will be able to manage your existing contingent workforce using Transformify Freelance Platform. Assigning projects, monitoring performance, transferring payments and reconciling invoices is a breeze. At any point in time, you have historical data about completed projects, interviewed candidates, transferred payments, issued invoices, etc.
Source Gig Workers and Freelancers On-Demand
The good news is that each project or gig posted on Transformify Freelance Platform is automatically indexed by 50+ job boards worldwide tremendously boosting the outreach. In addition, each job listing is SEO optimized to attract freelancers having relevant skills and actively looking for new opportunities.
Candidate Matching Algorithm
A powerful matching algorithm puts on top of the list those candidates having a maximum number of matching skills. At a glance, the recruiter has information about the pay rate expectations, the location and the availability of the freelancers. Creating shortlists and interviewing candidates has never been easier.
Copy a Shortlist
Often, the same role is open over and over again due to the nature of the business. Most marketing agencies work on a project basis and need designers, video editors and copywriters on-demand. Having all these people on payroll is often not feasible due to the business model and the costs. As a result, the next time a marketing agency needs a video editor, it is likely to reach to the freelancers they have worked with before as the quality of work and loyalty have already been tested. On top of that, usually, 5+ candidates are interviewed prior to extending an offer and the Top 3 candidates are very close to each other in terms of skills and experience.
What if the recruiters can simply copy the shortlist of an earlier project and message the candidates who have already been interviewed? That's how roles can be filled within 24 hours at a minimum cost. Knowing this fact, Transformify Freelance Platform offers a ''Copy Shortlist'' functionality. Just one click and all candidates that have already been interviewed before being added to the list.
Message Candidates
As creating a shortlist of qualified freelancers and gig workers takes minutes, recruiters can immediately proceed with messaging candidates, asking for references and scheduling time for an interview. Of course, they can do so without leaving Transformify Freelance Platform. All messages are sent to the registered email as well to shorten the response time and speed up the hiring process.
Schedule an Interview with Shortlisted Candidates
No matter where in the world the candidates are based, they can receive an interview invite converted to match their time zone. No chance to miss an interview due to misunderstanding and messing up with time zones.
Assigning Contingent Workforce to Projects and Gigs
Normally, all roles are filled in in less than 72 hours. However, this is just the beginning as the recruiters need to manage all projects, deliverables and payments. To make everyone's life easy, Transformify Freelance Platform allows a variety of metrics and flexible project duration. Depending on the project, the freelancers and contingent workers can be assigned to hourly, daily, weekly and monthly work packages. Some industries may assign experts to hourly projects and this is especially valid for the management consultants who normally charge per hour. On the other hand, an SAP or Oracle integration consultant may be needed for 6 months as this is the forecasted duration of the project. No matter what the business specifics and preferences are, Transformify's clients have all the flexibility they need.
One-off and Recurring Payments
No one will be waiting for 6 months to get paid. Thus, any total payment can be split to as many recurring payments as necessary. For example, a SAP consultant assigned to a 6-month project may demand a weekly payment. The total payment is split to 24 recurring payments and the SAP consultant can receive payment at the end of each week.
What about different payment arrangements?
Imagine that your SAP consultant demands weekly payments but there is a Project Manager in the US who is used to bi-weekly payments. With Transformify Freelance Platform it is possible to arrange a different payment schedule for each and every freelancer, gig worker or independent contractor. Most of our clients employ contingent workforce in multiple countries and there are different preferences. On top of that, some projects may be long-term while others may be per hour due to business specifics. Transformify addresses all these requirements.
Internal Payment Controls
Monitoring payments and deliverables via Excel sheets is risky and usually results in duplicate payments, delayed payments or both. As an all-remote company, Transformify has a freelance pool of 250+ freelancers and contingent workers worldwide. We have faced all these challenges before and made sure that our clients will not go through the same ordeal. Having internal controls is a '' must-have'' for every business regardless of the size of the company or annual audit requirements.
So how it works?
Single Payment Request
Each freelancer sees at a glance all payments till the end of the project s/he has been assigned to. However, payment can be requested only if the previous payment has already been approved by the hiring manager or the project manager.
Payment Approval
Each payment can be requested ONLY ONCE. No duplicate payments or multiple payment requests. As payment requests are not approved automatically, the project manager can check the quality of work and the deliverables, to ask questions, etc. Payment is approved only after all deliverables have been received and the quality of work is in-line with the expectations.
Automated Payment Transfers Worldwide
Imagine that you have hired freelancers and contingent workers in the US, India and Korea. Storing information about their bank details, keeping it up-to-date and transferring payments in three different currencies is a hassle. The good news is that all this is not needed at all. Each freelancer has an account with Transformify Freelance Platform and can update her/his payment details at any time. Automatically, the next payment will be transferred to the latest stated account and no action on the employer's side is required.
Storing Sensitive Financial Data
For security and compliance reasons, Transformify DOES NOT store credit card details or bank account information. Instead, these details are directly provided to our partners facilitating the payment transfers worldwide. Payoneer, Stripe, Revolut, etc. are licensed financial institutions adhering to the highest security standards. Our clients have peace of mind knowing that they don't need to collect and store sensitive financial information even though they transfer payments to hundreds or thousands or freelancers and contingent workers worldwide.
Invoicing
You hired a brilliant graphic designer, but do you need to train him/her on how to issue an invoice? The short answer to this question is ''No''. Freelancers and gig workers are supposed to do what they do best and deliver quality work. Dealing with administrative tasks and issuing invoices is a waste of their time. Needless to say, invoicing is fully automated if you use Transformify Freelance Platform. Even better, our business clients may receive a custom xml file that can be directly uploaded into their ERP or accounting system to avoid any manual work.
Interested? Contact sales@transformify.org or start a 7-day Trial for $7.