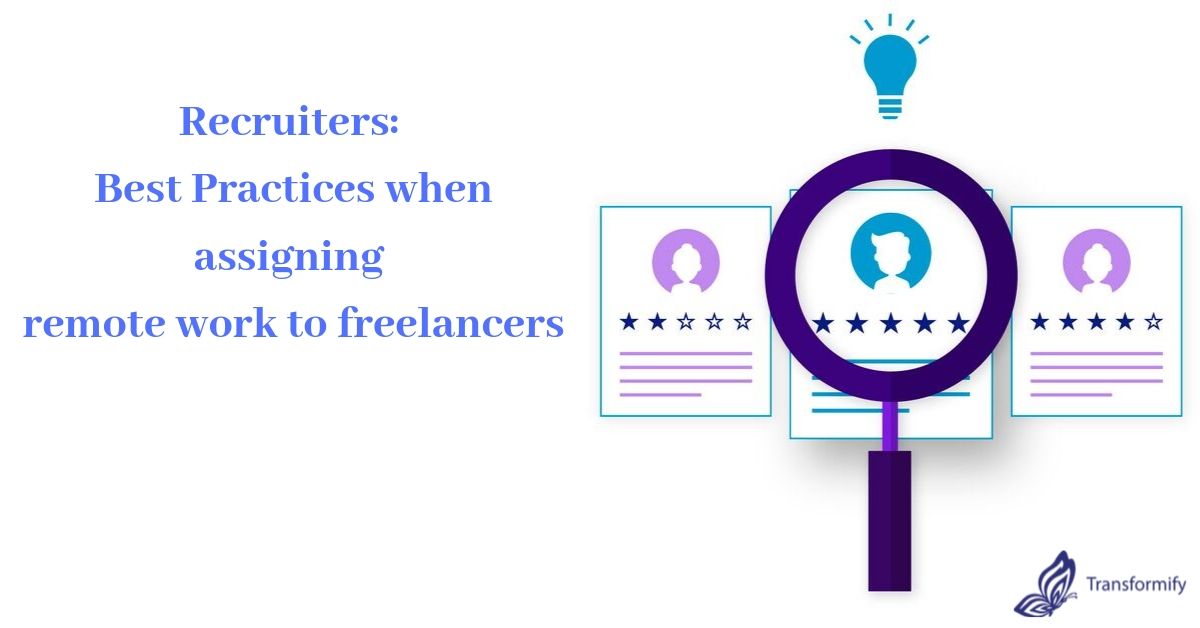 Working with freelancers has many advantages as the world is your talent pool. You can hire rare talents, fill in roles quickly and benefit from lower rent outside of the big cities.
Based on Transformify Freelance Platform stats, remote freelance roles receive 3 times more job applications and as a recruiter, you are likely to find the perfect candidate in less than a week. Once the excitement of onboarding a future top performer is over, it is advisable to follow some best practices to avoid any disputes and conflict situations in the future.
Remote Worker Agreement
Always have a signed agreement in place even if this is a small task and you will be paying per hour. Make sure that the rights and obligations are clearly defined especially when it comes to intellectual property rights (IP), deliverables and deadlines. It is also important to clarify that the freelancer is not an employee but a non-agent independent contractor and not entitled to any employment benefits. In some countries, the local legislation may be more restrictive and the arrangements with freelancers and remote workers can be treated as employment if certain conditions are met.
All freelancers and non-agent independent contractors sign Transformify Terms and Conditions that cover all points mentioned above. Still, we advise to have an explicit remote worker agreement in place if confidential data is to be exchanged or you will be working with the freelancers for 6+ months.
Clear KPIs, deliverables and quality standards
Stipulating in the remote worker agreement that you will be paying per hour is not enough. Set clear expectations about the work that is to be delivered in a given period of time, what the KPIs are, how performance is to be measured and what the quality standards are.
Example: Sales Representative
KPIs: send 40 emails per day, complete 5 calls with prospective clients, deliver 2 online demos, etc.
Quality criteria: email open rate of 25%, email click-through rate of 5%, number of booked demos and follow up calls, etc.
Performance criteria: number of closed deals, sales turnover, number of deals in the pipeline, etc.
Unless you have the KPIs, quality and performance criteria defined, it will be hard to claim that the work that has been delivered is not meeting your quality standards, the time has not been utilized, etc.
Intellectual Property Rights (IP)
The IP legislation varies from country to country. Please contact a lawyer for advice if you are not familiar with the IP legislation of a foreign country. Sometimes, it is appealing to hire a candidate immediately if you are short of resources or you have been looking for rare talents for a long time. However, please be aware that in some countries, it is the freelancer who may be entitled to the intellectual property rights once the project is completed no matter that you have requested for the work to be done, provided documentation and guidance, and eventually paid for the project to be completed.
Time Tracking
It is one of the most common reasons for disputes when hiring remote workers. As they are far away, or at least not in the same office, it is easy to claim more time than the time that has actually been worked out.
How to avoid such situations?
Refer to industry standards and set them as best practices
There are such statistics per industry and per job function.
Example: On average, 7 support emails are sent per hour, hence it is not acceptable to claim 10 hours if just one email has been sent out.
Of course, there are exceptions and you need to also have a defined procedure as to how these are to be treated. A common practice is to require an explanation of why a certain task has required significantly more time than the industry average.
Beware of the various time tracking options
There are many time tracking software solutions like TimeDoctor, TimeCamp, etc. you may use. In general, they are inexpensive, and it is advisable to use them if you intend to pay per hour. However, there are options allowing the remote workers to book time manually instead of using the mobile or desktop app that automatically records the time that has been spent on the respective task. This is the option that is most commonly used by some freelancers to claim more time than the time they have actually spent on the tasks you have assigned to them.
Setting computer time/app time as a standard
If you opt to use computer time, there is a side benefit – most time tracking software solutions will provide reports on idle time and report on low productivity. Put simply, you will know that out of those 10 hours claimed, your freelancer has actually spent 2 hours on YouTube and 1 hour on Facebook. Provided that this is not part of the job, you may simply deduct these hours and provide guidance on when such behaviour is acceptable.
As you have an idle time report, it is less likely for the remote workers to bill time that has not been worked out. On the other hand, if you allow manual input and have not clarified which industry best practices are to be followed, it will be hard to object that sending 1 email or obtaining 1 Linkedin contact takes 10 hours.
Shall you use print screens?
Recording a print screen every 5, 10min, etc. is a standard option offered by some time tracking software providers. However, there are some points to be considered prior to choosing this option.
Legislation
In some countries, it is required to notify the remote worker that his/her activity will be recorded. You may need to obtain an explicit permission, agree on the way these recordings are going to be used, etc.
Security and IP
Always have in mind that the recorded print screens will be stored on third-party servers for at least some time. A potential unauthorized access to your account may result in a leakage of confidential information about your product. If you are likely to access your account when travelling or you often use public Internet connection, this option may not be the best choice for you.
Approving Payment Requests
Transformify Freelance Platform allows you, as a client, to pay one off or to set recurring payments tight to the time that has been worked out. No payment will be transferred to the remote worker unless it has been approved on your side. An invoice is automatically issued for each payment containing the payment ID, the Job ID and all information you may need to reconcile and link the payment to the work that has actually been delivered.