Most companies handle employment matters by either accepting a high turnover rate and working around it or by constantly improving their human resources policies and practices to attract and retain the most qualified candidates. Although a mixed approach is followed by many employers, they tend to build their employer brand around diverse corporate values. Some companies choose to
(i) Create a revolving door where lack of benefits, support, and positivity bring an endless cycle of new hires who quickly burn out and quit; while others choose to
(ii) Create a nurturing, positive environment where employees feel respected, well-compensated, and trust upper-level management to lead -where it's normal to see happy people who stay with the same company for years.
To get there, employers need to ''walk the walk'', but also they need to ''talk the talk'', and that's why employer branding is so important. Making sure that employees feel good about working for your company, and that the whole world knows what your brand stands for, is fundamental to positioning you as a dream employer.
Instead of following a revolving door model, why not focus on creating a positive environment with lasting, happy relationships? This blog post will explore how to do that, and how to leverage that positive environment for better hiring outcomes.
You can't fake a healthy workplace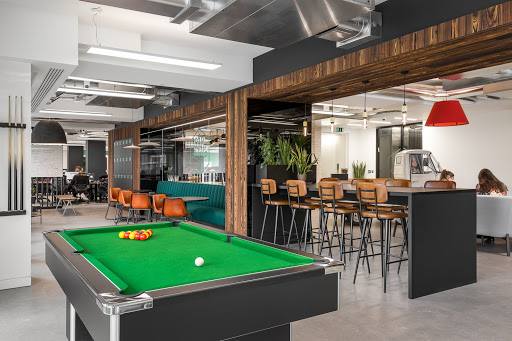 Caption: Oaknorth's elegant office and lavish breakroom speak volumes about how much they care about their employees.
This is not an article about how to pretend you have a great workplace - this is about how to actually make it better, and use an authentically vibrant work environment to attract the most qualified candidates. There are a number of ways to accomplish this: creating a nest-like break room that has all the comforts of home, like napping pods, extra comfy chairs, video game stations, free food and fancy coffee brewing machines. Amenities are important, but so are the values you uphold.
That can be anything from encouraging employees to work remotely, to sponsoring volunteer outreach with local organizations such as schools, animal shelters, or community centers. Demonstrating your commitment to your community will speak volumes to potential employees about the sort of values you have, and will inspire top candidates who share your values to consider working with you.
Diversity and the sense of belonging are more important than ever. Bringing in diverse candidates who can contribute to your corporate culture is only the first step. To thrive, they need to feel as a valued part of the team. There is no ''one size fits them all ' and what works for one company may not work for another. Some workplaces are naturally diverse as talent scarcity results in hiring all qualified candidates when they knock on the door regardless of their age, race, gender, religious beliefs or other factors. Diverse teams are often more creative as team members have various backgrounds and see the same problem from different angles. However, it may be a challenge to introduce diverse candidates to more homogenous and conservative workplaces. People are biased in nature and it could help to organize workshops and share the diversity hiring strategy of the company with the team prior to introducing diverse candidates. Panel interviews are also a good practice as the candidates can meet the team during the interview process. Any tension or drawback will be obvious and help the hiring manager to make an informed decision in favor of everyone involved. Diversity hiring is not about checklists and ratios, it is about giving equal opportunities to everyone, making unbiased hiring decisions based on merit and ensuring that the new team members will feel welcome, valued and at par with everyone.
Reviews should be your friend, not foe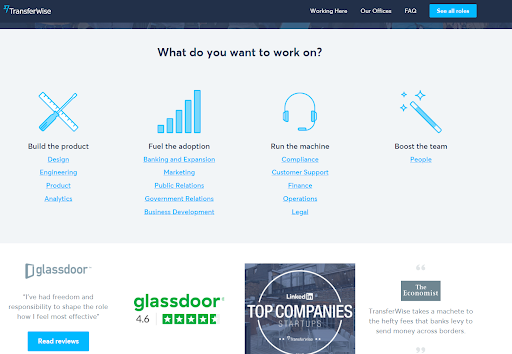 Caption: Transferwise puts their 4.6 Glassdoor rating front and center on their careers page.
When it comes to branding your business as a great employer to work for, employment review websites like Glassdoor are one of your most powerful tools. If you're doing everything right, current and former employees should be happy to leave positive public feedback. Prominently display that feedback on the hiring page of your website, where it will speak for itself.
Show them the money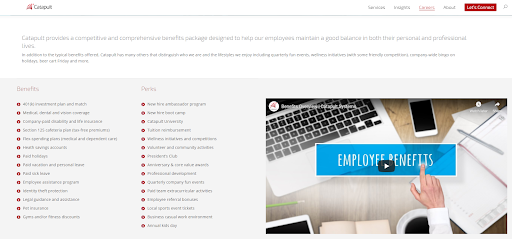 Caption: Catapult makes it clear that they take employee compensation very seriously.
Just being able to say that your company offers competitive benefits is a branding coup. When you pair that with industry-leading benefits, you send a message that talent is valued at your company. Most people consistently rank pay and benefits as at the top or near the top of their priorities when they evaluate prospective employers, so being able to offer high perceived value in exchange for their time will put you ahead of your competitors for valuable human capital.
Give them opportunities to climb the ladder
One of the most important ways to show that you are serious about looking after your employees' well-being is by promoting from within. The merits of keeping promotional hires "within the family" are well-documented: they already understand the business model of the company, the requirements of the role, and are familiar with corporate culture. When it comes to building a strong employer brand, telling prospective employees that they will have opportunities for growth makes it clear that you are looking for long-term relationships where all parties benefit.
Be accountable to criticism and open to new ideas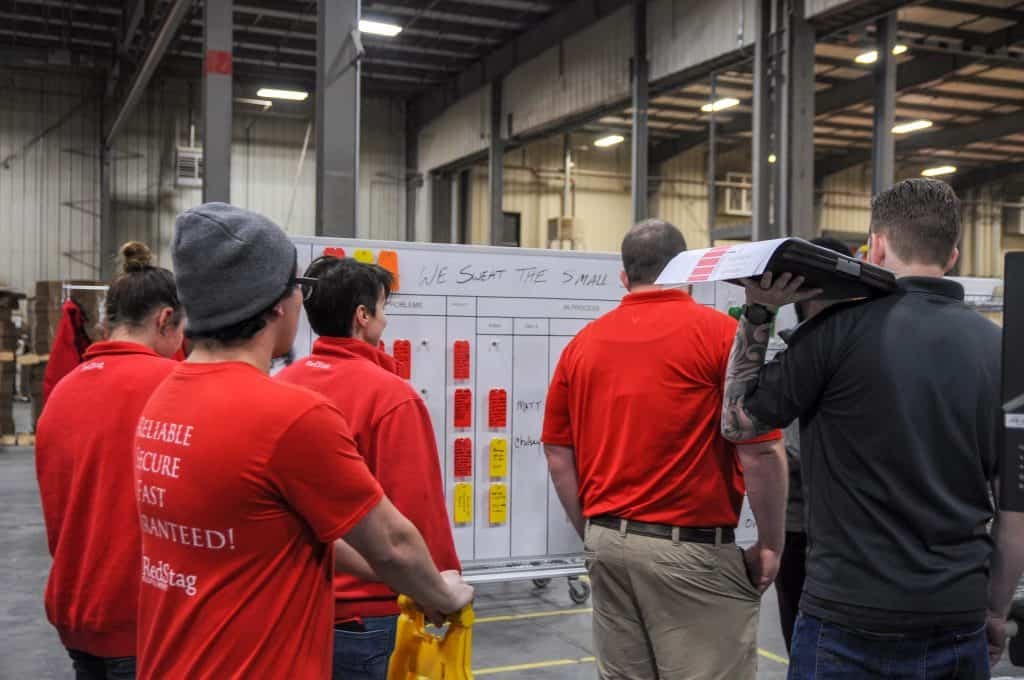 Caption: Red Stag Fulfillment places suggestion boards all over their warehouses so that employees can contribute ideas on how to make things run better.
It makes sense that the people who work for you are most likely to have the best ideas to drive the company forward. Having an open communication channel, whether it's a suggestion box, Slack channel or dedicated email for employees to share helpful ideas, is part of a healthy work environment. It doesn't matter if your business is an e-commerce fulfillment center or a car dealership, people everywhere want to feel that management cares about them and their voices are heard.
Paying out bonuses for ideas that are implemented company-wide is, pardon the redundancy, an added bonus to incorporating employee feedback. It is a clear manifestation of your company's commitment to treating employees not just as interchangeable parts, but as active stakeholders who can influence outcomes for the better.
Everyone wants to work in a nurturing, growth-minded environment where ideas are proven based on merit and innovation is encouraged. When employers honestly broadcast their values
to prospective employees, a bigger and more qualified talent pool awaits, along with the positive knock-on effects that come from hiring the most talented candidates.
Do you need help with Employer Branding? Check out what Transformify Team can do for you. Employer Branding Services: Link