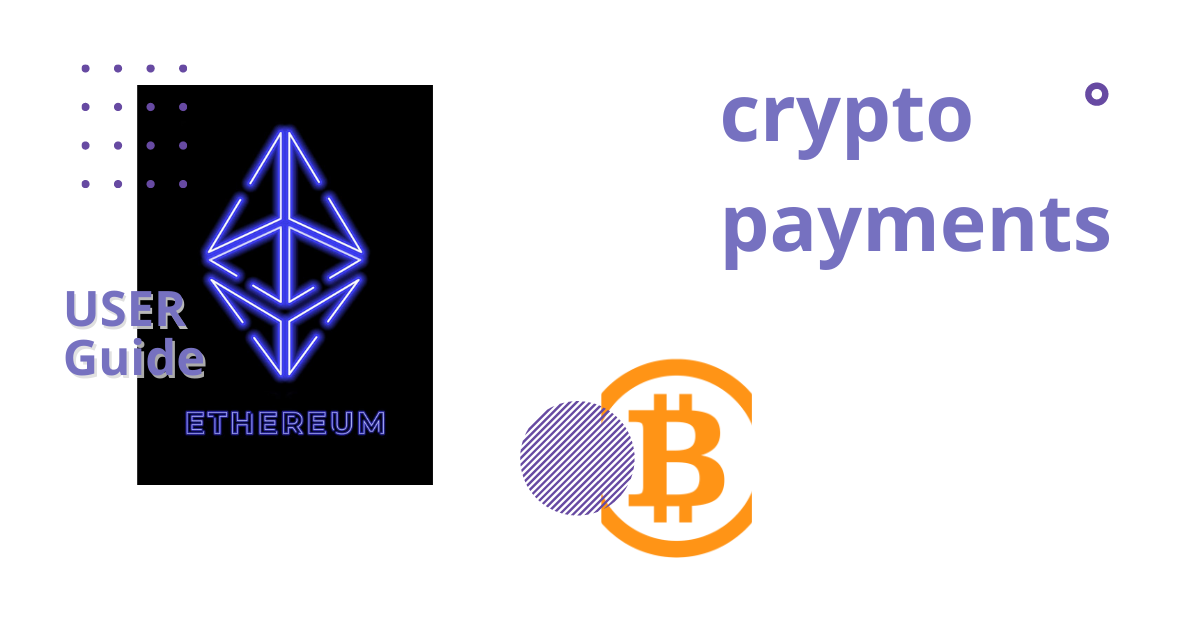 Although the adoption of crypto payments is increasing, still, there are very few crypto payment solutions specifically designed to address the needs of businesses transferring payouts to freelancers, independent contractors, service providers and even employees.
Transformify workforce management system has been designed to specifically address the billing and payment needs of both businesses and their workforce. Along with payments in traditional or ''fiat'' currencies, Transformify offers secure payments to freelancers, service providers and employees in 20+ cryptocurrencies.
Supported Cryptocurrencies
BTC - Bitcoin
LTC - Litecoin
BCH - Bitcoin cash
ADA - Cardano
ETH - Ethereum
DOGE - Dogecoin
NEO - Neo
XRP - Ripple
USDT - Tether* USD Omni layer token (Based on BTC blockchain network) is NO LONGER SUPPORTED!
USDTE - Tether USD ERC20 token
USDTT - Tether USD TRC20 token
ERC20 token(s) can be added by request
BNB - Binance Coin
EURS - STASIS EURS
USDC - USD Coin
TRX - TRON
XED - Exeedme ERC20 token
DAI - Dai ERC20 Stablecoin
MRX - Metrix Coin
WBTC - Wrapped Bitcoin
CPD - CoinsPaid token
There are 2 groups of users that can benefit from crypto payments:
1. Partners / Business Clients
2. Members / Freelancers, Independent Contractors, Service Providers or Employees
What do you need to know prior to selecting cryptocurrency payments as your default payment method?
Cryptocurrencies are volatile and you need to set your expectations right regarding receiving payments in cryptocurrency and holding crypto;

The so-called ''gas fees'' or put simply, the fees charged for processing crypto transactions on a blockchain protocol, are calculated dynamically and vary a lot even though the payment amount you are supposed to receive remains the same;

You need to have a crypto wallet account to receive payments in crypto;

You need to familiarize yourself with the fees charged by your crypto wallet provider regarding exchanging cryptocurrency into ''fiat'' currency – eg. EUR, and withdrawing fiat currency into your bank account. Transformify does not recommend a specific crypto wallet provider or limit your choices. You can open an account with any crypto wallet provider.
If You Are a Partner/ Business Client processing payments via Transformify
Business clients are protected from the volatility associated with payments in cryptocurrency. All payments to their workforce are created in fiat currency – eg. EUR, USD, GBP, etc. If any freelancers, service providers, independent contractors or employees have opted to receive payments in cryptocurrency, Transformify will automatically exchange the payment amount in fiat currency, you as a Partner/ Business Customer has transferred, into the cryptocurrency the members of your team have opted to receive payments into.
Example:
Partner/Business Client: '' ABC'' Ltd.
Member/Freelancer: Peter Smith
''ABC'' Ltd. creates a payment transfer to Peter Smith for EUR 1000. However, Peter Smith has opted to receive payment in BTC (bitcoin).
Upon receiving the payment request, Transformify exchanges EUR 1000 into BTC and transfers BTC to the crypto wallet provided by Peter Smith.
Peter Smith receives the equivalent of EUR 1000 in BTC into his crypto wallet minus any fees that might be charged by the crypto wallet provider.
''ABC'' Ltd. receives information about the crypto exchange and gas fees charged associated with the payment to Peter Smith in the monthly invoice issued by Transformify to ''ABC'' Ltd.
Steps to follow as a Partner/ Business Client if you want to offer crypto payments to your workforce:
Inform your team about the crypto payment option. Your Transformify account manager will assist you with training, webinars, etc. if needed;

Set your expectations (and budgets) right regarding the exchange and gas fees associated with cryptocurrency payments to your team;

Create payments to your workforce in fiat currency just like before – eg. EUR, USD, GBP, etc.

Your monthly invoices will be issued in fiat currency as usual, thus mitigating the risks associated with the volatility of the cryptocurrencies.
If you are a Member/ Freelancer, Service Provider, Employee, etc. and want to receive crypto payments
First and foremost, familiarize yourself with the risks associated with the volatility of cryptocurrencies. Then, set your expectations right regarding the exchange rates and the fees that might be charged by your crypto wallet provider. In some countries, there might be restrictions that apply to opening a crypto wallet account, receiving and holding payments in cryptocurrency. The crypto regulations vary a lot from country to country and may change abruptly, literally overnight. We strongly advise you to follow the news and keep yourself informed, especially if you plan to hold cryptocurrency for an extended period of time.
Steps to follow to set cryptocurrency payment as your default payment method:

1. Familiarize yourself with the crypto regulations applicable to your country of residence;
2. Conduct research on the crypto wallet providers and their fees;
3. Open a crypto wallet account with the selected provider;
4. Login to your member account with Transformify – Link
5. Navigate to Payments/ Payment Details as shown below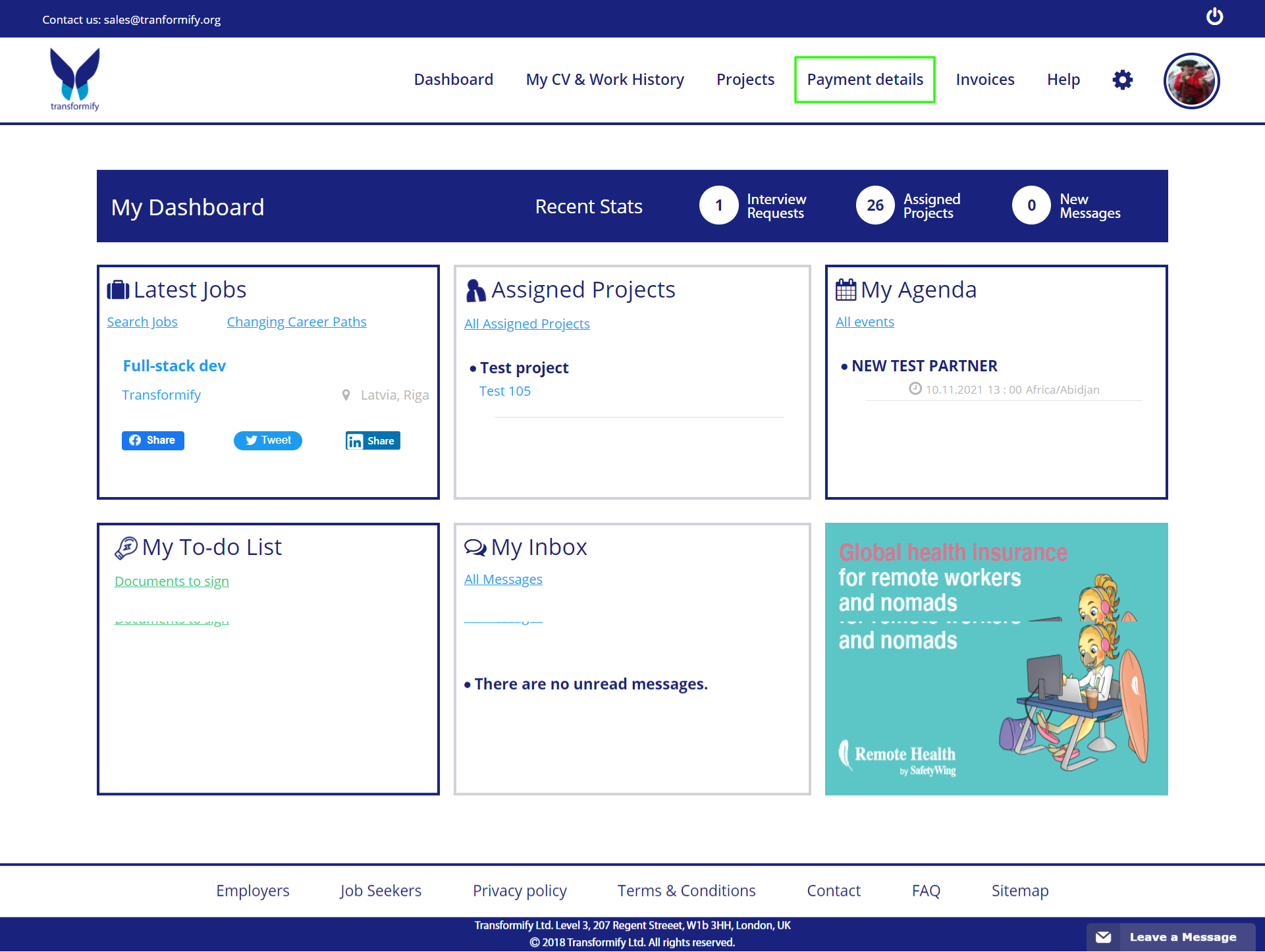 6. Select Crypto and click on the ''Edit Payment Details'' button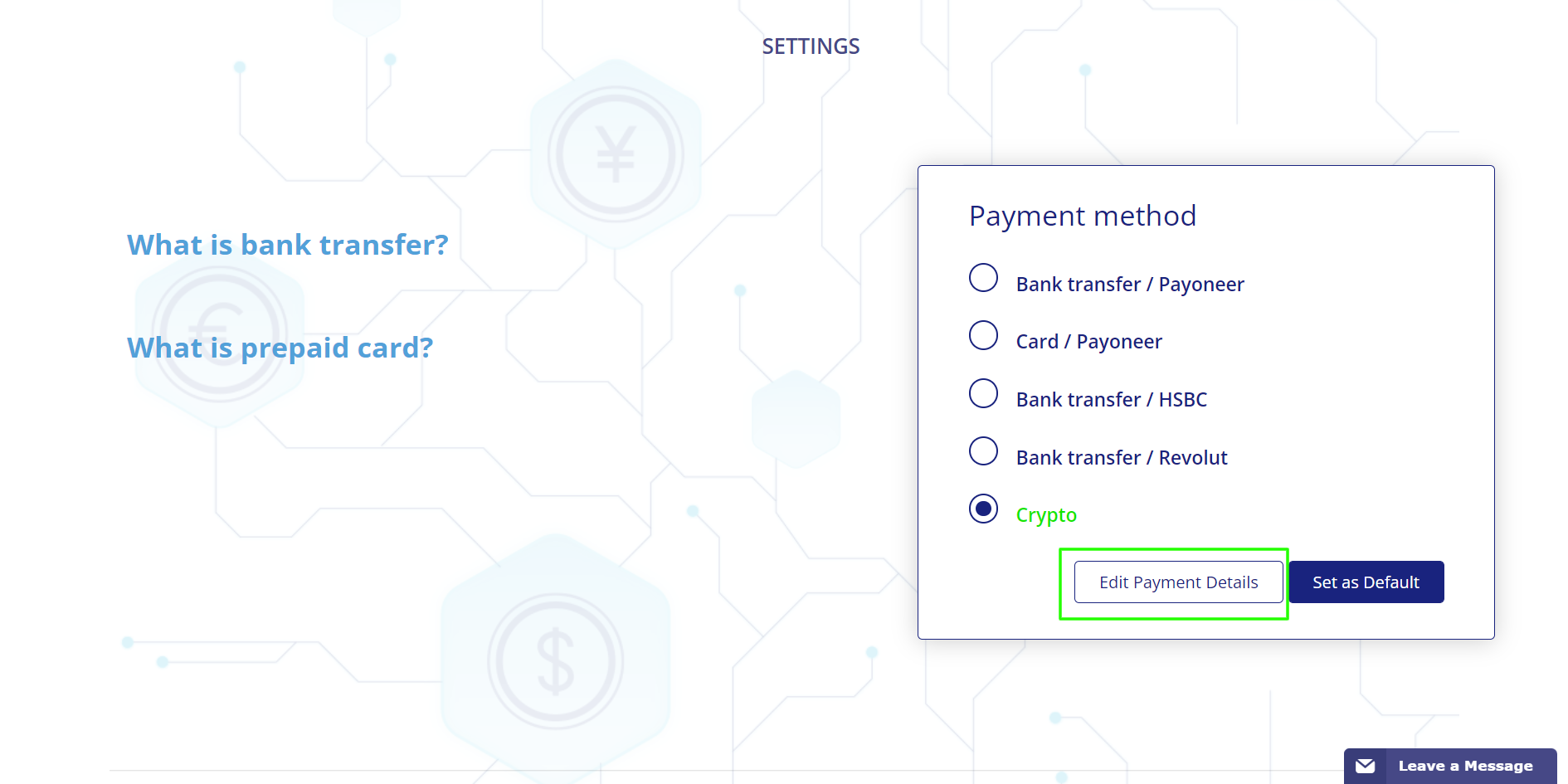 7. Fill in the cryptocurrency and the address of your crypto wallet and click ''Confirm changes''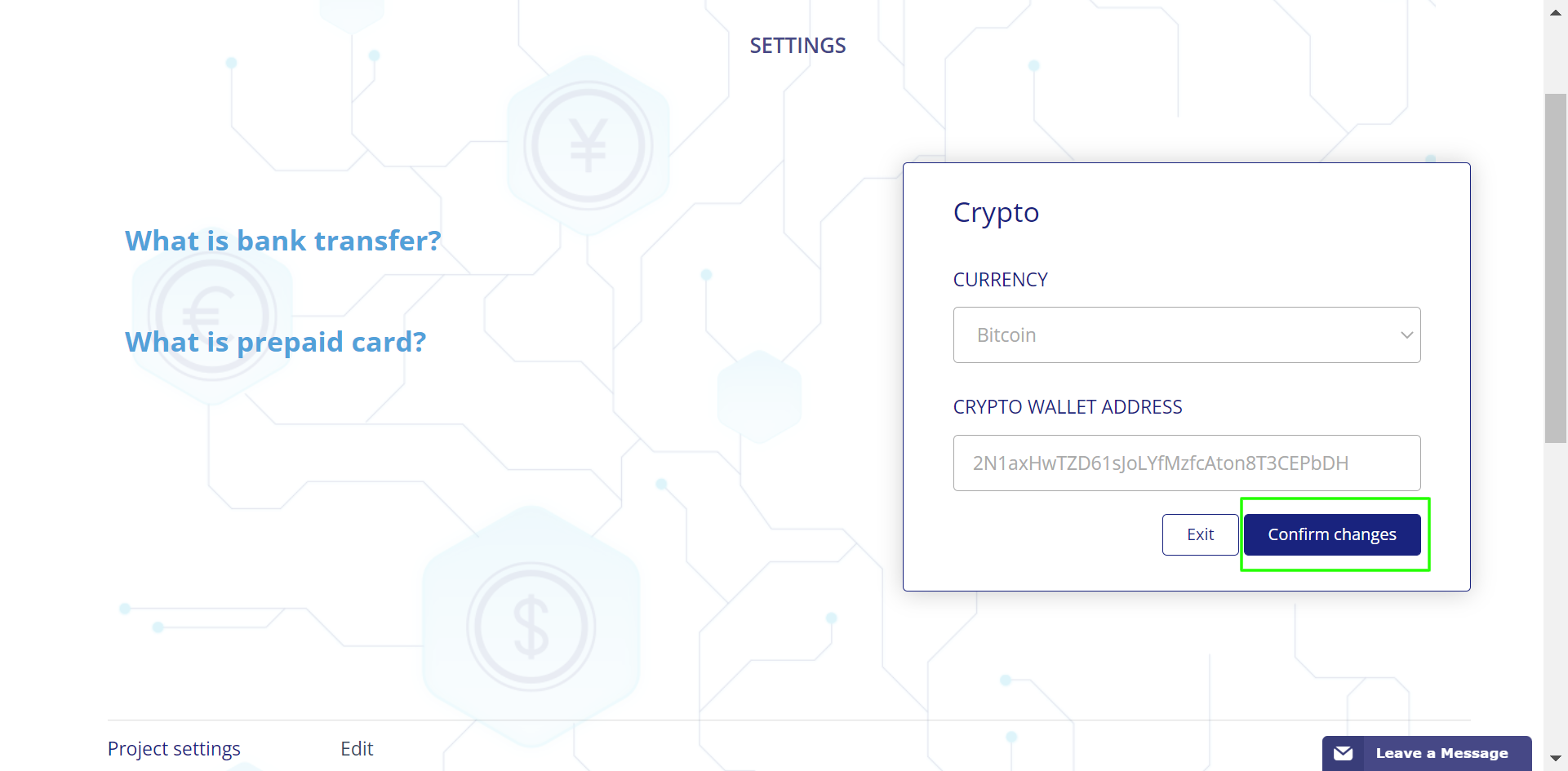 8. Select '' Crypto'' and click ''Set as default''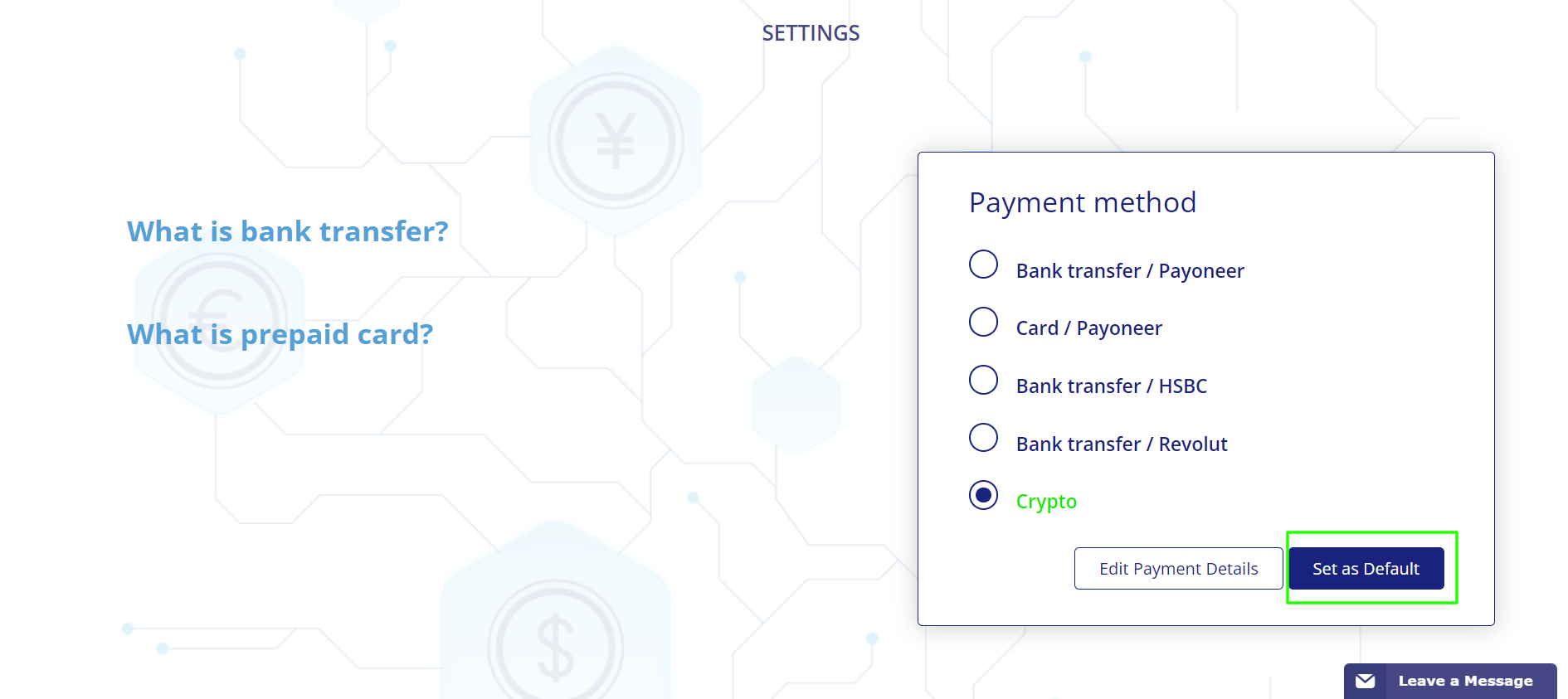 Once crypto has been set as your default payment method, all payments generated thereafter will be processed to your crypto wallet in the selected cryptocurrency.
What happens with the payments that have been created prior to setting Crypto as your default payment method?
Any such payments will be processed using your previous default payment method.
Example:
Jane Dow has set her default payment method as HSBC. On Jan 21st, 2022, Jane Dow decides to switch her default payment method to Crypto.
On Feb 1st, 2022, Jane Dow logs into her Transformify account and sees that there are 2 approved payments:
1. Payment for USD 250, created on Jan 19th, 2022
2. Payment for EUR 800, created on Jan 25th
Given that Jane Dow has switched her default payment method on Jan 21st, 2022, the first payment for USD 250 will be processed via HSBC and the second payment created on Jan 25th, 2022 will be processed in Crypto to her crypto wallet and converted into the selected cryptocurrency.
Can you switch from Crypto to another payment method?
Definitely. As a member, you can do so at any time by selecting a different payment method from the list of available payment methods and setting it as default.
Crypto payments are an exciting opportunity, but they do not fit everyone's needs. Users shall be particularly cautious when it comes to country=specific crypto regulations and crypto wallet provider fees.