To most recruiters and job seekers, it is still unclear what the difference between a job board and recruitment CRM is.
Is it just the technology that has been used or there is more to it?
In India, people are used to searching for jobs using popular job portals like Naukri.com, FreshersWorld, etc. Some job boards are offering paid services, others are free but in both cases the success rate is unclear.
On the other hand, a Recruitment CRM is an end-to end solution that adds much more value than a simple job search.
Employers: How is this relevant?
Pricing
All prices in USD

Job Posting

Resume Database Access

RMS / ATS

Branding

Transformify Recruitment CRM

USD 20-USD 50

USD 30

readily included in most packs

USD 50 per user/billed monthly

Free blog posts.

Free company logo, etc.

Naukri

USD 65 - USD 94

USD 189 - USD 504

Custom

Custom
Transformify Recruitment CRM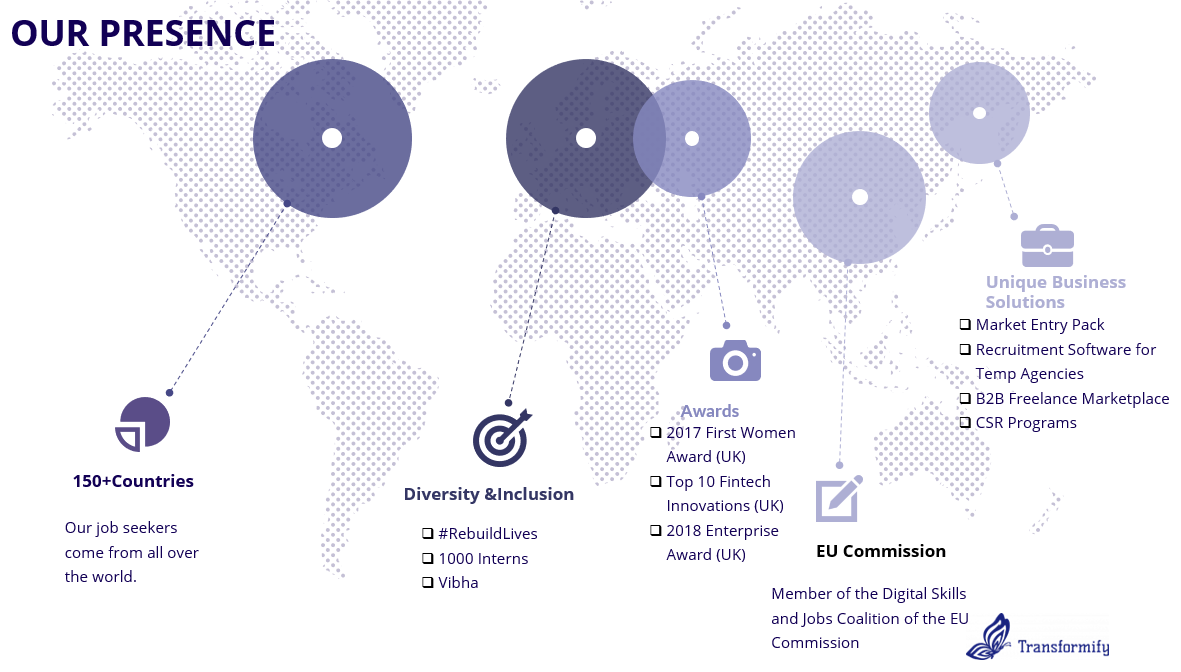 Advantages:
An end-to-end solution including candidate sourcing, candidate matching algorithms, building shortlists, interviews, billing, self-billing and payments.
Each job post is automatically indexed by 50+ job boards worldwide and shared via the social media channels to attract the right candidates actively looking for a job.
Loaded with:
(i) Job board/ Job Marketplace
(ii) Candidate Sourcing
(iii) Candidate matching algorithms
(iv) ATS (Applicant Tracking System
(v) B2B Freelance Marketplace
(vi) Billing, self-billing and payments
(vii) Analytics and reports
(viii) Market Entry Pack
(ix) CSR Solutions/ CSR Recruitment Platform
CSR ( Corporate Social Responsibility) on focus
Many businesses are willing to engage with social causes but find it hard to execute on their CSR programs. After all, it is not easy to diversify the workforce of a company having 10 000+ employees. How to source people with disability, freshers or mothers?
Transformify Recruitment CRM allows to select a job category to indicate that the job is addressing the needs of a specific group of people without excluding anyone. Each CSR program is discussed to come up with a PR and marketing plan to ensure its success and add value to the business and the society at large.
What if the job listing is to be kept confidential?
A ''private'' job listing allows the recruiters to contact a list of candidates (i) having matching skills and (ii) open to new opportunities. The job listing is not publicly displayed and kept confidential
What about the number of matching skills and salary expectations?
Just one look is enough for a recruiter to determine if the candidate possesses the required skills and (ii) if the desired pay rate is within the budget.
Is it possible to integrate with an external ATS?
Absolutely. It is possible to source and transfer candidates to any external applicant tracking system via a custom integration.
Is it possible to simultaneously source candidates in a number of countries?
Transformify Recruitment CRM is a global solution. Our clients source candidates across all geographies and verticals.
Disadvantages:
Transformify Recruitment CRM standard solutions are in English. The localisations in all other languages are purchased separately and customized to address the needs of the respective client.
Naukri.com
Advantages:
An established brand in India used by a number of job seekers and employers. A variety of services and packages the recruiters can choose from tailored to their needs.
Disadvantages:
A passive database of candidates who may not be looking for a career change. The recruiters get access to a certain number of candidates and have to proactively contact them to find out their current situation, salary expectations, willingness to relocate, etc.
The cost may be too high depending on the efficiency and the quality of candidates each company manages to attract and hire.
Overview
Although most employers use Naukri.com as a job board, it also offers a Recruitment Managing System that comes in three versions:
RMS Enterprise
RMS Consultant
RMS Referral
Built around an applicant tracking system, the RMS is expected to save time and manual data entry.
Naukri.com services also include:
(i) Job posting services
(ii) Resume Database access
(iii) Referral solutions
(iv) Branding solutions
Job Seekers: How is this relevant?
Naukri.com
Overview
The job portal offers a mix of paid and free services. It is up to the job seeker to determine whether it is worth it to upgrade to the paid services as there is no guarantee that s/he will get their dream job faster and with the employer s/he is interested in. As it is very individual and depends on the skills, expertise, qualification and experience of the candidate, the success rate may differ a lot.
Looking at the reviews published online on Glassdoor, Mouthshut, TrustedCompany, etc. , there is a mix of happy and unsatisfied customers which is normal given the large number of users having a variety of expectations.
Payment Guarantee and Payments to Freelancers and Temporary Staff
Naukri.com doesn't offer a freelance marketplace or secure payments to freelancers although there are posted freelance jobs. Once the candidate gets hired, the payment terms, etc. are to be negotiated with the employer. No secure payment functionality is offered at present ( 2018).
Job Alerts
Job alerts could be set up based on the preferences of the job seeker.
Transformify Recruitment CRM
Overview
Leveraging on advanced technology, Transformify Recruitment CRM is free for the job seekers. Powerful algorithms match the job seekers to the jobs relevant to them based on candidates skills, salary expectations, location, etc.
Even more, there are job categories indicating that the job is of interest to a particular group of people - remote jobs, startup jobs, permanent jobs, jobs for people with disabilities, etc. The job category indicates that the job is addressing the needs and interests of a particular group of people BUT all jobs are open to everyone.
CSR, diversity and inclusion are among Transformify's core values and there are social responsibility programs boosting financial inclusion, empowering women, revitalizing high-unemployment areas and post -war zones, etc.
In most cases, there is no need to write a CV either. The job seekers provide a link to their Linkedin profile, portfolio, etc. Indicating that they are open to new opportunities means that they can get contacted by employers looking for candidates having matching skills.
Payment Guarantee and Payments to Freelancers and Temporary Staff
Transformify Recruitment CRM comes with B2B Freelance Marketplace equipped with billing, self-billing and payment functionality. Job Seekers are offered a payment guarantee if they opt to receive payment through Transformify Recruitment CRM.
Job Alerts
Based on their preferences, the job seekers may receive an email each time a job matching their skills has been posted. Also, indicating that they are open to new opportunities increases the chances of being contacted directly by the recruiters.
CV writing

Recruiter Reach

Payment

option

Payment guarantee

Naukri.com

Paid

Paid

No

No

Transformify Recruitment CRM

N/A

free

N/A

free

Yes

Yes
P.S. Transformify Recruitment CRM is generally FREE for the job seekers.