Transformify & DES Offer
The Digital Business World Congress equips chief executives (CEO, CFO, COO) with the knowledge and the technical solutions needed to develop the digital transformation framework of their organizations.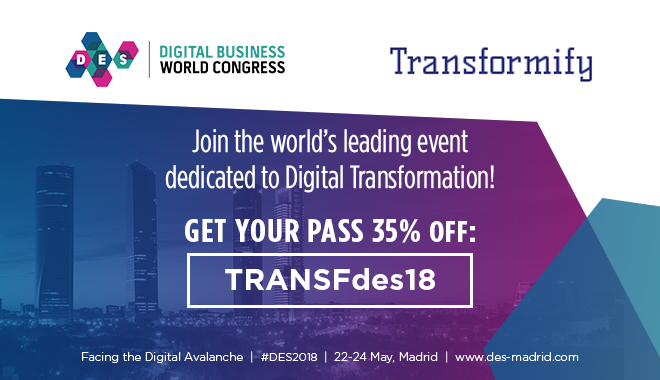 10% off your new office with WeWork
USD 100 off your first booking with Roam
A Month of Free recruitment services with Transformify, including:
ATS ( Applicant Tracking System)
Recruitment Software for Managing Freelancers and Temporary Workers
Service Optimizer: Hire Freelancers, Experts, and Consultants at ease. (B2B)
Supplier Diversity: A Business Essential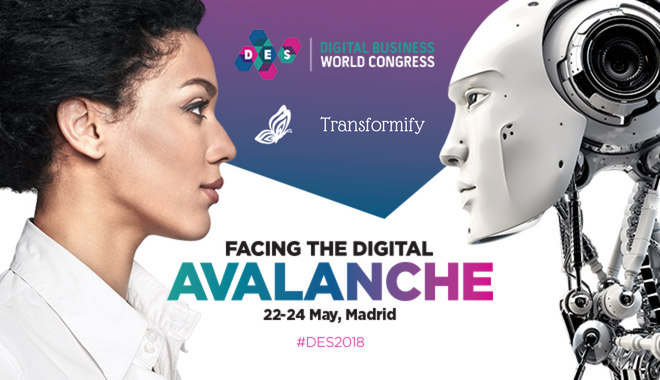 Transformify is a CSR Recruitment Platform that helps connect business with the most qualified workers. The recruitment software implements an intelligent learning algorithm that searches and matches companies or employers with the most qualified and desirable candidates based on their skills, certifications, location, and salary expectations among other things.

With Transformify, the employers can get the best independent contractors, freelancing professionals, consultants, experts, as well as regular employees to fill vacancies in their organization, whether working remotely, telecommuting or in office. The recruitment software also comes with a billing and self-billing capabilities that allow businesses to transfer secure payments worldwide.
Benefits for Employers


Transformify bridges the gap between the best and the brightest freelance professionals and employees seeking employment and individual employers, companies, and organizations that are looking for remote-based or in office workers that match their requirements and other criteria.

With Transformify, the employers don't have to exert much effort filtering out their pool of candidates, which can be quite time-intensive and very demanding. The recruitment software implements powerful algorithms that go through candidates' details and threshes out the whole list, providing you with a pool of job seekers that match the criteria you have set, including skills, salary expectations, location, and more.
The CSR Recruitment platform offers access to a large pool of job seekers from more than 150 countries. The hiring process becomes so streamlined and accelerated that hiring the perfect person is a breeze and the chances of ending up with a ''Bad Hire'' are minimal.
Benefits for Job Seekers

For job seekers, searching for employment becomes a walk in the park. Transformify works with employers based on three continents and with its smart matching algorithm, finding a job that is aligned with their career path and trajectory becomes less difficult and more exciting.
Transformify is also loaded with billing, self-billing, and payment transfer services,centralizes all your payments to a single vendor and Transformify will handle the rest of grunt work, leaving you free to concentrate on other things that matter the most.
DES | Digital Business World Congress, the international leading event on Digital Transformation, which gathers the entire management committee (CEOs, CIOs, CMOs, CDOs and HR) of large companies and SMEs from all over the globe, comes back on 22-24 May 2018 to Madrid, Spain. DES is a global platform, where tech companies and business consultants showcase innovative products and solutions to more than 18,000 C-level managers. Consequently, it's an ideal meeting point to develop business opportunities and where to discuss new business models and strategies with experts in each sector.
DES stands out by combining an interactive exhibition area with a top-level international congress. During three days of the show, over 300 exhibitors showcase their solutions within the Internet of Things, Cloud, Cybersecurity, Big Data, Digital Marketing, Artificial Intelligence or Blockchain, among others. Digital Business World Congress, which counts on 450 international speakers, will cover success stories, new business models, leadership, influence on digital strategies implementation. In addition to sessions dedicated to emphasizing the latest advances and applications of technology in the organization, there are 12 vertical forums in parallel, which cover the impact of technology in each industry through real cases in Banking, Retail, Automotive, Public Sector, Tourism, Health, Industry, Insurance, Energy, Pharmaceuticals, Media or FMCG.